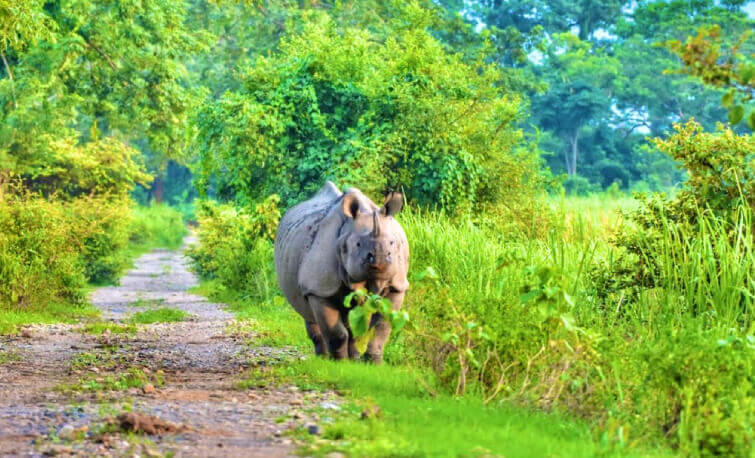 05 Dec, 2022
Kaziranga Witnesses over 50,000 Tourist Footfall since October Reopening
Kaziranga Tourism Update - According to reports shared by Kaziranga National Park, the park has witnessed more than 50,000 tourist footfalls including domestic and international, since its reopening in October this year. To let our readers know, Kaziranga National Park & Tiger Reserve (KNP&TR) reopened post-monsoon on October 2nd, 2022 for the next season.
As per the reports, the officials of KNP & TR said that around 67,863 visitors have visited the park since the first week of October. The data shared by the officials shows that around 27,115 domestic and 278 foreign tourists visited the park in October. In November, the number of domestic tourists increased to 39,130 whereas 1,340 foreign tourists came to the park.
In June 2022, before the closing of the park subject to the monsoon season, the park shared a report where it showed that it received an all-time high tourist footfall of over 2.75 Lakh and set a record revenue collection of Rs. 6 Crore during October 2021 to May 2022 period. The report also mentioned that there was a 64% increase in total tourist footfall over the last two years.
This time while sharing the report stating the record number of tourist footfalls, Ramesh Kumar Gogoi, the Divisional Forest Officer (DFO), Eastern Assam Wildlife Division told "The turnout seems to be normal as of now, but we expect more tourists from the month of December onwards till the closing of the park next year in May 2023 subject to the monsoon season. There is already a flow of tourists in the park and this is a positive sign."
He also shared that Kaziranga National Park has become a high-end tourist destination due to another reason. He added, "KNP has become the most preferred destination. Nowadays, all the big conferences (government level) are held here, like the national level of judiciary, first ever SPs' conference. So this is a kind of tourism flow indirectly." In the last, he also said that the park never disappoints any of its visitors.
Last year, due to the Covid scare and several restrictions on travelling, the flow of foreign tourists in Kaziranga National Park was severely low. Just 733 foreigners visited the park last year, which means in 2021. However, according to a forest source, about 2,20,027 domestic tourists visited Kaziranga last season.
It is worth mentioning, Kaziranga National Park was awarded 'Best Wildlife Destination in India' by Outlook Traveller on August 24, 2022.
Kaziranga National Park News Inputs.