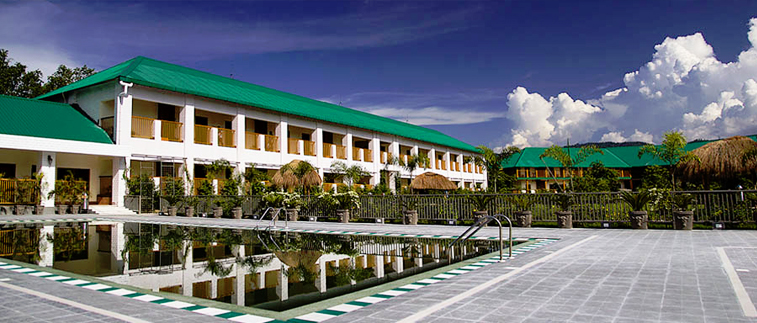 23 Aug, 2016
The 20 Best Wildlife Resorts and Hotels in Kaziranga National Park
Home to the famed big five mammals - Indian Rhino, Asiatic Elephants, Royal Bengal Tigers, Swamp Deer and Water Buffalo, and rare birds, Kaziranga National Park is a fascinating ecological stronghold of India and a UNESCO World Heritage Site. The present population of rhinos in the park - 2,500 rhinos represents more than two-thirds of the world's total. And that's the reason why this riverine habitat is known as the Land of Giants. Besides being a safe haven for world's largest population of the great one-horned rhinoceros, Kaziranga is also notable for its diverse landscapes and conservation success stories.
With so much to explore in Kaziranga National Park, it remains crowded with wildlife enthusiast to experience wilderness by opting for iconic safari. And make their stay even more memorable, the region has many wildlife resorts. From budget to luxury to homestay, there are so many that you will be spoilt for choices.
This time around, we will tell you about the best accommodation in Kaziranga National Park that will promise you the time of your life. Have a look-
IORA - The Retreat

Charming location; warm Assamese hospitality; state-of-the-art amenities; spacious rooms with a view of lush fields; spa centers; fitness rooms- IORA has everything that one can expect in a luxury hotel. And that's the reason why it is on the top of the list of best accommodation in Kaziranga. Along with the elephant and jeep safari in Kaziranga National Park, the resort also offers many indoor and outdoor activities; organizes visits to nearby villages and tea estates; fishing tours and walking trails. And if none of these activities matches your imagination of a perfect holiday, you can enjoy interesting mocktails in the balcony of your spacious rooms or chill out in the swimming pool. Food lovers should visit the Multi-Cuisine Restaurant and Bhatbaan-Assamese Cuisine Restaurant, which serves exotic cuisines. The resort has a well-stocked bar too. Facilities to host corporate meetings are also available as the hotel has a huge conference room that can accommodate up to 200 people.
Rooms: There are 42 aesthetically designed huge rooms in the hotel- 4 thematic suites, 4 supreme rooms, 23 luxury rooms and 11 deluxe rooms. Each and every room is well furnished with the state-of-the-art facilities and equipped with cable television, coffee makers, wifi connectivity, and mini bar. Also, in the hotel, you can find special rooms for physically challenged people and senior citizens. To book a stay in the hotel, room reservation should be done in advance.
Location: Bogorijuri, P.O. Kohora, Kaziranga National Park, Dist. Golaghat, Assam - 785109
Resort Borgos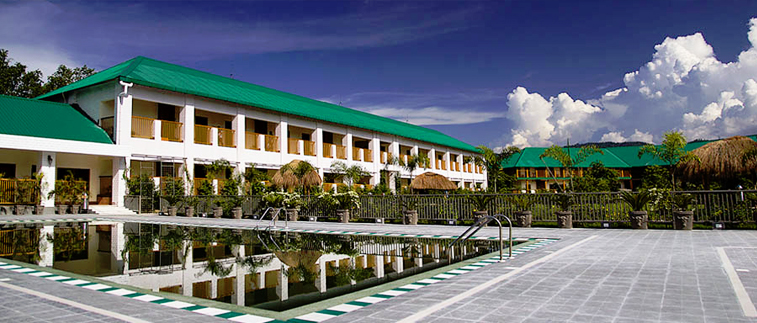 Located in the middle of Bijulee Tea Garde, Borgos Resort promises to offer a unique wildlife experience. Besides, it is quite close to the main gate of Kaziranga National Park. The resort is gracefully designed, and the panoramic view of the resort instantly adds a touch of the thrill to it. For recreational, here one can find a fitness center, outdoor pool, and massage center. And to make this resort extra special is the caring staff, which ensures everything falls in places for the guests.
Rooms: Bijulee Tea Garde offers accommodation in the form of executive rooms, executive deluxe rooms, luxury deluxe rooms, and presidential suites. Spacious and well ventilated, resort rooms are perfect for a luxury holiday.
Location: No.2 Sildubi, Kaziranga National Park, Kohora, Assam 785609
Infinity Resort Kaziranga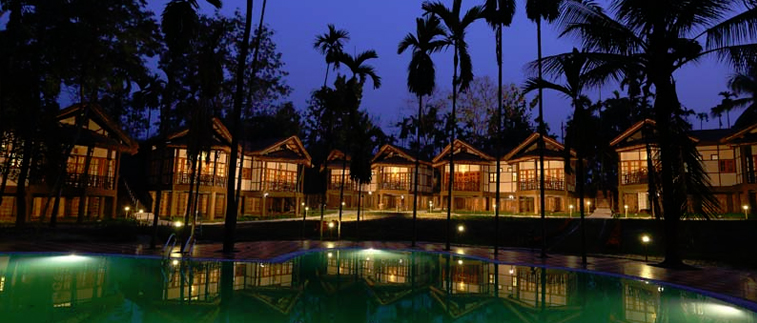 Here comes the other grand entry - Infinity Resorts, which is managed by a well-known chain of premium hotels. If you want to experience the real beauty of Assam, Infinity Resort is the best luxury resort to book a stay because of its location amidst the thick bamboo grove, medicinal plants, betel nuts and fruit trees. Besides, the resort is quite close to the Kaziranga National Park. Infinity Resorts also features a spa, swimming pool, and recreational center. Also, the resort organizes nature treks, elephant ride, wildlife safari, etc. The in-house multi-cuisine restaurant of the resort serves scrumptious Assamese, North Indian, Chinese and Continental cuisine. It's the impeccable service and warm hospitality that allows the place to outshine.
Rooms: Resort has 18 twin-bedded or double-bedded large, ventilated and airy rooms, which are approximately 380 sq ft in the area; each built like an old Assamese house and providing a beautiful view of the nearby jungles.
Landmark Woods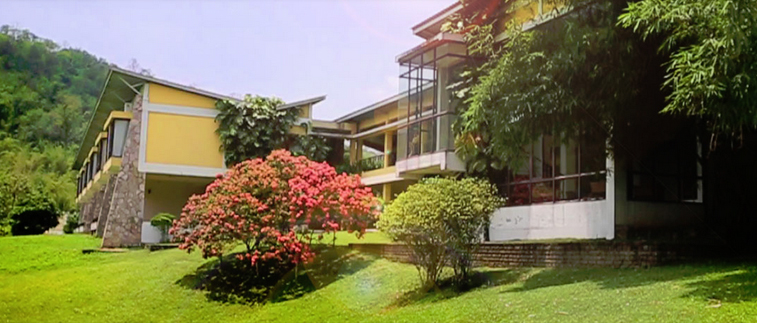 This four-star wildlife hotel is located between the Burrapahar and Bagori range of Kaziranga National Park. Due to its close proximity to the park, all the 25 rooms of Landmark Woods Resorts offer a picturesque view of the far-off high hills and jungles. The specialty of the Landmark Woods Resort is jungle safari and elephant ride tours, which are guided by a naturalist. Also, the hotel features an open-air amphitheater and barbecue.
Rooms: Luxury Room - Single and Double occupancy- are the two types of well-appointed rooms available for stay in Landmark Woods. All the rooms come with satellite television, coffee/tea maker, and telephone with direct dial facility. Each room is attached with a bathroom comprising body wash, soap, shampoo and dental kit.
Location: Landmark Woods, Kanchanjurie, Kaziranga, Nagaon, Assam, 782136
Diphlu River Lodge

One can easily figure out the relevance of Diphlu River Lodge from the fact that royal couple - Kate and Prince William stayed here on their Kaziranga wildlife holiday. Skip, hop and jump away from the Kaziranga, Diphlu River Lodge is situated on the bank of the Diphlu River, amidst the rice fields. Besides, it is quite close to Baguri Forest range, elephant ride point of Kaziranga National Park. While staying in Diphlu River Lodge, you can go for a river cruise, stop for a waterside picnic, and spend your evenings exchanging stories with other guests over drinks at The Machan. The resort offers many other activities that promise to enthrall tourists in every sense.
Rooms: Tastefully decorated rooms of the lodge are classified into individual cottages and semi-detached cottages. Since the resort believes in the policy of cutting back the carbon footprints, the river facing cottages of the resorts are made of natural materials like bamboo and wood, topped with thatched roofs to blend in with the forest surroundings. All the rooms have air-conditioned and equipped with facilities like minibar, electric kettle, safe and a walk-in closet. Attached bathroom of the lodge features shower and hairdryer.
Location: Kuthuri Region, Near Bagori Police Outpost, Assam 782136
United 21 Grassland Resorts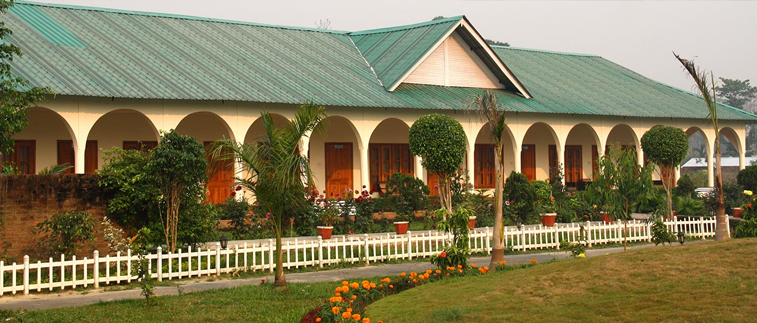 Counted amongst the best places to stay in Kaziranga for its divine and peaceful location, United 21 Grasslands resort is a fun place for room reservation. Tucked in the Hathikuli region of Assam, the resort is hardly a hop, skip and jump away from the Kaziranga National Park. For kids, there is a huge play area, which is also good enough to take a walk around. Also there, there's a swimming pool and gymnasium. It's the location that makes travelers book a stay in United 21 Grasslands resort.
Rooms: The spacious rooms of resort are made of eco-friendly material. All the rooms are well furnished and equipped with television, and direct dialing telephone. Amenities of the resort includes 24-hour room service, luggage storage, travel arrangements, currency exchange and concierge services. Each room has a nice sitting area, allowing the guests to soak in the beauty of the place.
Location: Harmoti, Bagori Range, Kaziranga, Assam 785609
Wild Grass Lodge, Kaziranga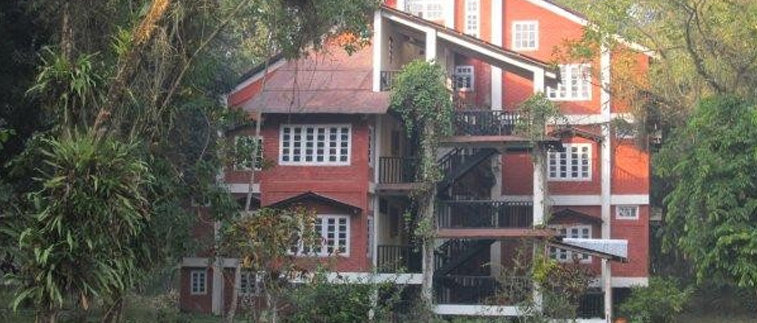 Located amidst beautiful grounds, sprinkled with a couple of hundred more of shrubs and close to 40 species of trees, Wild Grass Lodge is a perfect place to stay in Kaziranga. The lodge is hardly a stone throw away from Kaziranga; waking up for your early-morning safari is as painless as can be. The lodge staff keeps you busy by offering scrumptious food and endless rounds of tea.
Rooms: Accommodation in the resort is offered in 18 double rooms and three tents; each with a attached bathroom and hot and cold water facilities.
Location: Bochagaon,Kaziranga, Kaziranga National Park 786009, India
Bonhabi Resort, Kaziranga

Hop, Skip and Jump away from the entry gate of Kohora Central Range, Bonhabi Resort is one of the decent budget hotels of Kaziranga. The resort even offers safari and bird watching tours. Having a refreshing ambiance, the resort proves to be a perfect spot for wildlife getaways coupled with various adventure activities.
Rooms: The 12 beautiful yet well-furnished rooms of the resort, overlooking the tropical rainforest and paddy fields, are fully furnished with attached bathroom.
Location: Kohora Gaon, Bogorijuri, Kaziranga National Park, Dist: Golaghat, Assam (India)
Dhanshree Resort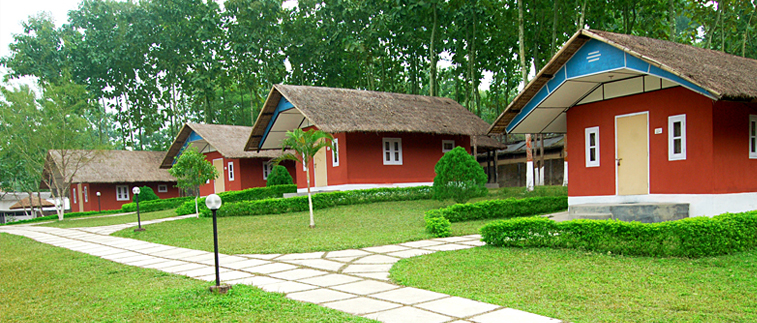 Conveniently close to the Kohora range of Kaziranga National Park, Dhanshree Resort offers the top-notch facilities to the travelers. On special request, the resort also organizes a visit to the tea garden, bird watching tours, village tour, adventure trekking trips, jeep safari and elephant safari that will make your trip a memorable one. The in-house restaurant of the hotel serves some of the most delicious cuisines.
Rooms: Accommodation in this resort is classified as executive cottages, deluxe cottages, deluxe rooms and standard cottages. Each room is provided with exceptional services like Satellite television, 24 hr room service, doctor on call, in-house laundry and dry cleaning. For the convenience of business travelers, the hotel also offers conference Room with Secretarial Service.
Location: Hatikhuli T.E., Assam 785609
Agoratoli Eco-Tourism Resort

If you always had a deep desire to stay in jungle lodges and eco-friendly resort then you should book a stay in Agoratoli Eco-Tourism Resort. Hardly 300 meters away from the safari zone, the hotel promises to offer a luxury retreat that travelers have been longing for. Wrapped in the shadow of the huge trees rubbing shoulder with each other, breathtaking view of the park can easily enchant anyone. Beautiful interiors; affordable prices; top notch services and warm hospitality makes Agoratoli Eco-Tourism Resort an instant hit amongst the travelers. Don't be shocked if early morning you see the beautiful Indian Rhinoceros roaming around your room. Along with the basic amenities, the resort also organizes outdoor games, bull cart ride, bonfire, picnic, and a visit to nearby tea gardens.
Rooms: All the decorated suites and deluxe rooms of the resort features plush interiors and beautiful view. Beds in these rooms are made with bamboo and cane to provide a traditional look.
Location: Opposite Agoratoli Range Office, Golaghat, Kaziranga, Assam 785609
Kaziranga Resort

A stay in the land of rhinos just can't get better than this. Kaziranga Resort might be a new resort in the region but promises to offer best services and hospitality. It's quite famous for its location, beautiful rooms and amiable services. On special request, the resort offer services like horse ride, elephant ride, traditional folk dance and traditional cuisine.
Rooms: The resort offers a stay in Cluster Cottages, Kabri Cottage, Honeymoon Cottage and Assam Type Cottage; each well furnished with modern amenities to keep guest comfortable and at ease.
Location: NH 37, Kaziranga National Park, Kohora, Golaghat, Assam 783365
Kaliabor Manor Resort

Kaliabor Manor Resort, located on the outskirts of Kaziranga National Park, is one of the best places to book an accommodation for the bird watchers. This premier resort is home to around 300 species of birds, who greets visitors who come here. If planning a stay in the Kaliabor Manor Resort, don't forget to try the scrumptious multi-cuisine food served in the in-house restaurant. One of the finest features of the resort is its rooms that offer the delightful view of ta-estates and verdant forests.
Rooms: In the resort, one can find 20 clean and comfortable rooms including four heritage rooms and six private cottages. All the rooms are tastefully decorated with all the facilities tourists can ask for.
Wild Mahseer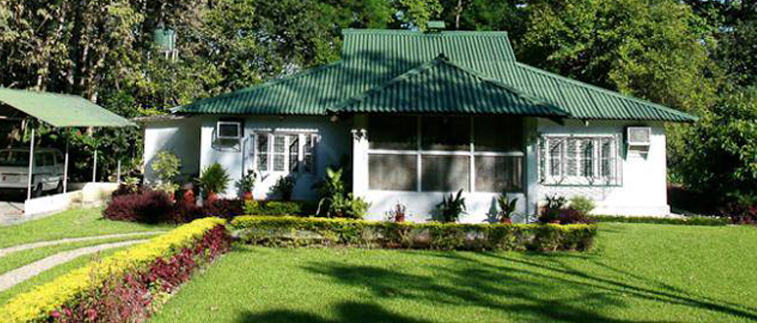 Located on the north bank of the Brahmaputra River amidst the Addabarie Tea Estate, award winning Wild Mahseer might not be too close to Kaziranga National Park but offers the best when it comes to wildlife holiday experience to travelers. Initially, the hotel was the property of Britishers, thus here is a victorian touch in its interiors. On special request, the resort even offers a visit to the nearby tea gardens and organic farms. So staying in Wild Mahseerenable enable you to experience the best of Assam's beauty. Even the Nameri National Park is hardly a few kilometers drive from Wild Mahseer.
Rooms: For stay, the rooms in the hotel are classified into Heritage Bungalow, Golden Tips Bungalow, Silver Tips Bungalow
Location: Balipara Division, Addabarie Tea Estate, P.O Lokra, Sonitpur, Balipara, Assam, 784101, India
Jupuri Ghar

Jupuri Garh is small in size but colossal in beauty. Located off the road in Kohora Tourist range, Jupuri Garh is one of the finest choices for a family tour in Kaziranga National Park. Besides its location, which being quite close to the national park, the resort is also renowned for its well-appointed rooms equipped with all the amenities that make your stay a memorable one.
Room: The resort comprises of eight charming, clean and comfortable air-conditioned cottages with an attached bathroom.
Location: Hatikhuli T.E., Assam 785609
The Green Village Resort

With well-appointed rooms, Assamese lifestyle, and hospitality, Green Village offers the best travel experience unlike any other. The resort is situated amidst exotic location adorned with the series of waterbodies. The presence of flora and fauna in the region create an ambiance that is truly magical.
Rooms: The resort comprises of standard rooms, deluxe rooms, super deluxe rooms, and duplex rooms.
Location: Jakhalabandha, Rangalu, Nagaon, Assam – 782136
Jonaki Kareng

Located next to the tea estate, Jonaki Kareng can prove to be a good option for the budget travelers. The Unique feature of the resort is that it offers unsurpassed services in the middle of an engaging forest. The resort also has a multi cuisine restaurant. Overlooking the lush fields, the restaurant reinvents Indian food with unusual creations and pairings.
Rooms: Jonaki Kareng offers a stay in the form of the room (double bedded and four bedded) and one suit. Room facilities include direct dial facility and color television with satellite programs.
Location: Golaghat, Kohora, Assam 785609
Sneha Bhawan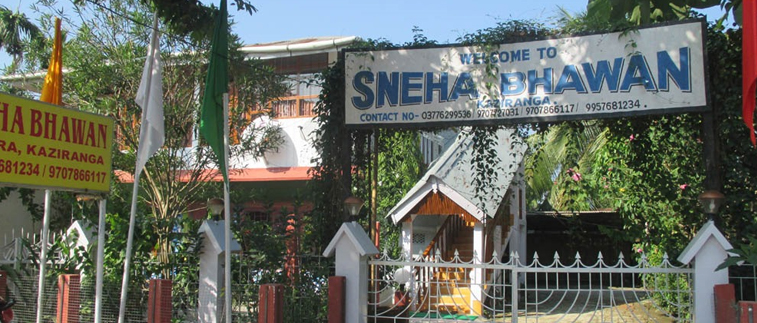 If you're looking for a stay in budget hotel amidst the wilderness, then look no further than the Sneha Bhawan. Strategically located close to the main gate of Kaziranga National Park, the hotel offers deluxe rooms that will cater to all your needs. Elephant safari, jeep ride, travel desk, doctor on call and laundry service are some facilities offered by resort.
Room: All the rooms of the hotels are spacious and have dramatic interiors. From each and every room, one can see the view of the widespread forest.
Location: Kohora, NH37, Golaghat, No.2 Sildubi, Assam 785609
Aranya Resort

For an aesthetic touch, there is a better place to book a stay than the Aranya Forest Lodge, which is hardly 3 kilometers away from the park entrance at Mihimukh. Managed by Assam Tourism Development Corporation Ltd, Aranya Forest Lodge is spread over 7 acres of verdant land and offers unmatched services. Hospitable staff of the lodge promises to treat you with utmost luxury. Adding charm to the lodge is its world class multi-cuisine dining restaurant that will treat your taste buds with world class cuisines.
Rooms: Accommodation in the resort is classified into AC and non-AC rooms with an attached bathroom. Some other facilities available in the rooms are television sets, direct dial telephone, and 24 hours room service.
Location: Kohara, Kaziranga National Park
T.G. Resort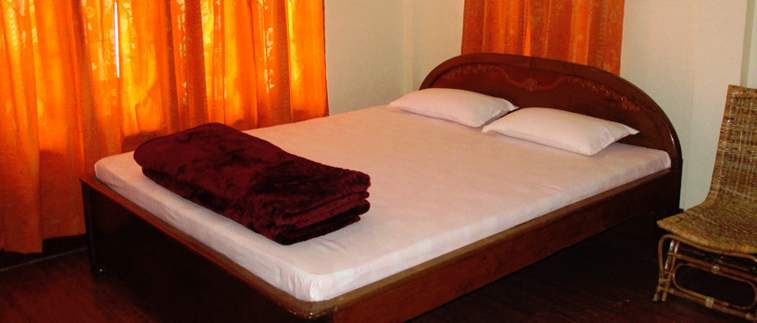 This rustic wildlife resort is hardly a kilometre away from the main entrance of Kaziranga National Park. And that's the reason why it is quite famous amongst the budget travellers, who come to Kaziranga National Park for to soak in the adventure of watching rhinoceros. Rooms of the resorts are furnished with all the modern amenities. With wilderness next door, it offers a tranquil environment to tourists.
Rooms: Overall, there are 10 rooms in the resort - 7 double bedded and 3 triple bedded with an attached bathroom. From the windows of these well-ventilated rooms, you can see the beautiful view of the Kaziranga National Park. Mirror, working desk, and walk-in closet would be available in the rooms.
Location: Bogorijuri, Kohora, Kaziranga National Park, Golaghat, Assam
Prayag Emerald

Last entry in the list is Prayag Emerald, which is managed by renowned Prayag hotels and resorts. The wildlife safari and elephant safari, organized by the hotel, are quite prominent. Rooms of the resort are basic as one can expect in a budget hotel but the caring staff renders over the top hospitality and ensures that everything falls in places for the guests. If staying in the wilderness is your idea of a vacation then stay in Prayag Emerald can prove to be your best bet.
Rooms: The hotel offers two types of rooms for stay - standards deluxe room and executive deluxe room, which are clean, elegant, spacious and comfortable.
Location: Bogorijuri Tiniali, Kohora, Kaziranga, Dist.- Golaghat, Assam 785109
We hope that our list of hotels and resorts could help you to book a stay Kaziranga National Park of your choice and budget. If you seek assistance in planning a wildlife tour or booking a stay in any of the aforesaid hotels, don't hesitate to contact us. You can call us at +91 9212777225 / 9212553107.
Popular Posts
---
Follow Us
---
Recent Posts