Sights of Assam
Destinations Covered
Dibrugarh – Jorhat – Kaziranga – Guwahati
Day 01: Dibrugarh: Arrival, Welcome Ceremony, Tea-factory
After a brief welcome ceremony on arrival at airport/rly-station you will be transferred to a host bunglow inside a tea-estate. After getting refreshment we will visit a tea – factory. In the evening enjoy the silence of tea-plantation, a sight for sore eyes. Overnight stay at the bunglow.
Day 02: Dibrugarh: Tea-plantation, Tea-workers Basti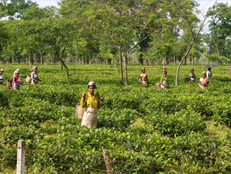 Early in the morning you can gain a mind cooling experience while walking through the greens of tea- plantation, which a concrete world can not offer. After a leisurely breakfast, we will meet the tea-garden manager or any concerned personality from this industry to know, to ask and to see anything related to tea plantation. Spend the afternoon leisurely in the bunglow or as you wish. In the evening we will visit tea-workers Basti to admire their simple style of living and to get to the rhythm of their 'Jhumur' dance. Overnight at the bunglow.
Day 03: Digboi: The oil city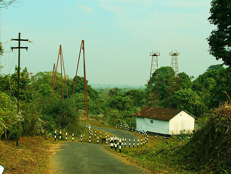 We will drive to Digboi(57KM) after breakfast. Digboi, having the second oldest oil field and the world's oldest operating machinery, still producing in excess of its capacity, won the name "the oil-city of Assam". Overnight at Digboi refinery Guest house.
Day 04: Digboi: Oil well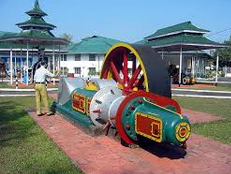 After breakfast, we will visit the oil field to see the oil wells. Digboi is not only an oil field, but an oil museum with world's oldest operating oil machinery. In the evening, drive down the meandering roads passing the hillocks to have a very pleasant experience. Overnight at Digboi.
Day 05: Jorhat: Tea-capital, the Thengal Mansion, Assamese village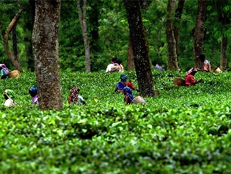 Early in the morning, we will drive to Jorhat(207KM), the tea-capital of Assam. On arrival at Jorhat, you will be accommodated in the Thengal Mansion, a historic ancestral house of a Tea Planter amidst an Asssamese village, 15 kms from Jorhat. The 72-year old Thangal Mansion is to answer the queries on Assamese culture and tradition. After lunch and rest, take a walk in a nearby village to see the simplicity of their lives.
Day 06: Kaziranga: Toklai Research Station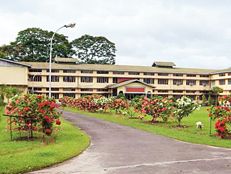 After breakfast, we will visit Toklai Research Station to know everything and anything about tea-plantation. Having lunch at Jorhat, we will leave for Kaziranga(90KM), the home of the rhino with one horn. Overnight at tourist lodge.
Day 07: Kaziranga: Elephant Safari, Rhino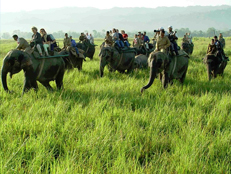 Early morning explore central area of Kaziranga National park on an elephant safari. Ride an Elephant through the park chasing a unicorn rhino along with a wide range of rare species. After lunch again take jeep safari to the central area of the park. Rest of the day at leisure to explore nature. Overnight at tourist Lodge.
Day 08: Kaziranga: Jeep Safari, Rhino, Tea Estate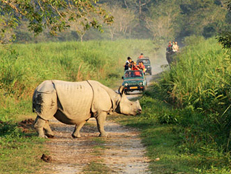 Visit a nearby Tea Estate and a tribal village to admire the living style of innocent villagers. After breakfast go on jeep safari in the eastern range of park with packed lunch. Spent the day exploring Mother Nature. Overnight at tourist Lodge.
Day 09: Guwahati: Basista Ashram, Brahmaputra cruise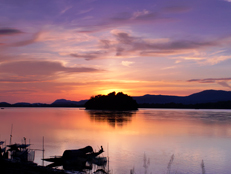 We will drive to Guwahati(220KM) after breakfast at Kazironga. On arrival check in to your hotel and take a brief rest. At afternoon we will visit Basista Ashram Picturesque old shrine through which flow the three legendary rocky streams- the Sandhya, Lalita and Kanta.In the evening a boat cruise on river Brahmaputra will refresh your and soul. Overnight at hotel.
Day 10: Guwahati airport, farewell
Day at rest till the time of departure from Guwahati Airport.
Tour and Services Ends.