Elephant Safari in Kaziranga
Range
1- Kohora (Central) Range.
2- Bagori (Western) Range.
3- Agoratoli (Eastern) Range.
4- Burapahar (Ghoraketi) Range.
5- Panbari Reserved Forest.
Elephant safari
Elephant Safari starts from very early morning and continues for one or 1/2 hours, Elephant safari is the best way to explore the wide varieties of wildlife in the Kaziranga National Park, area covered by the Elephant Grass can be best viewed trip through elephant's back, Elephant safari is best enjoyed in the early Morning, during safari one can get opportunity to see herds of Indian Elephants, One-horned Rhinoceros very short distance, a close encounter with the animals in Kaziranga National Park makes the trip memorable, Elephant safari covers Baguri, Hole Path, Mihimukh, Kohora Central Path and Arimarah.
Itinerary For Elephant Safari in Kaziranga
Day 01 : Arrive Guwahati – Kaziranga, 220 km 05 hrs
Elephant SafariOn arrival at Guwahati airport / railway station meet with our representative and drive to Kaziranga National Park. On arrival check in at the wildlife resort. Overnight stay at resort.
Day 02 : Kaziranga National Park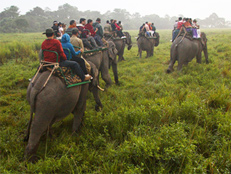 Morning after breakfast Jeep safari to the eastern range of national park- this part of the Park is best for birding. Crested Serpent Eagle is common while Palla's Eagle and Grey Headed Fishing Eagle are frequently seen. Others include Greater Adjutant Stork, Bar Headed Geese, Whistling Teal, Pelicans etc. With great luck one might see the endangered Bengal Floricans. Return to the lodge for lunch. After lunch jeep safari to either central or western range. Overnight stay at resort.
Day 03 : Kaziranga National Park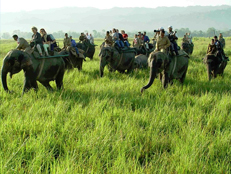 Early morning elephant safari (05:30 am to 06 : 30 am) to the national park for wildlife viewing. Wake up call half an hour before the ride. Return back to resort for breakfast. After breakfast jeep safari (either central or western range). Return to lodge for lunch. After lunch jeep safari (if visited central range in the morning then western range or vice versa. Overnight stay at wildlife resort.
Day 04 : Kaziranga – Guwahati – Departure
Morning after breakfast drive to Guwahati. On arrival transfer to the airport / railway station to board the flight / train for onward destination.
Tour and Services Ends.