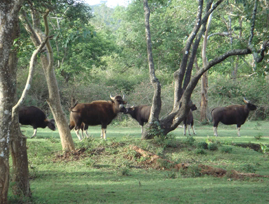 Nameri National Park covers an area of 200 Sq. Kms. With river Jia Bhoroli bifurcating the park, it is the most scenic of all the national parks of Assam. Its in the eastern border of Assam in the valley and mountainous Arunachal Pradesh. It was set up as a sanctuary in 1985 with an area of 137 sq. km. In 1998 it was officially established as a National Park. Nameri is home to some of the endangered species like white winged wood duck, Sloth Bear, Tiger Leopard, Clouded Leopard, Sambar, Gaur, Indian Wild Dog, four varieties of Hornbill and many other winged species. The other reason Nameri is famous for, is the herds of elephants. The park have a high density of elephant population and due to lessening of forest cover, they sometimes invade human inhabited villages, which have attracted the attention of wildlife conservationists worldwide.
Fauna : Tiger, Leopard, Clouded Leopard, Elephant, Gaur, Wild Pigs, Sambar, Barking Deer, Hispid hare, Slow Loris, Capped Langur, Dhole, Sloth Bear, Burmese ferret Badger, Binturong etc.
Avifauna : White Winged Wood duck, Palla's fish-eagle, Lesser Adjutant Stork, Greater spotted Eagle, White ramped vulture, Long billed vulture, Black bellied Tern, Rufous-necked Hornbill, Wreathed Hornbill, Great Pied Hornbill etc.
Reptiles : Assam Roofed Turtle, Indian Soft Shell Turtle, Indian Flap Shell Turtle, Keeled Box Turtle, South East Asian Leaf Turtle, Common Blind Snake, Myanmarese Python, Indian Cobra, King Cobra, Pit Viper, Monitor Lizard.
How to Reach Nameri National Park
By Air : The nearest airport is situated at Tezpur, which is 34 kms. away from the park. The other airport is located at Guwahati, 220 kms.
By Train : The nearest railhead is Rangapara, situated 25 kms away from Nameri National Park.
By Road : Regular buses ply to and from Tezpur, which is well connected with all the major cities of Assam.
Best Time to Visit : November to April is the best time for visit in Nameri national park.
Clothing : Woolen in winter, light cotton in would be suitable in Summer.
Accommodation : Eco Camp, Nameri