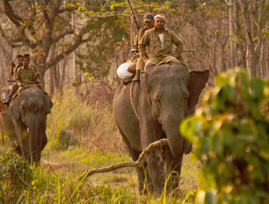 Manas National Park is situated on the bank of the river mans at the foothills of the Himalayas. The beautiful park earlier known as North Kamrup wildlife sanctuary is spread over an area of 519.77 sq km and was declared a sanctuary on December 01, 1928. It was established as the core of the Manas Tiger Reserve from April 1973 and elevated to the position of a National Park status on September 7, 1990. It is a well known World heritage site with it's unique combination of scenic beauty and rare wealth of wildlife.
Manas is one of the nine tiger reserve sanctuaries in India. Other wildlife spices found in national park are Hispid Hare, Pigmy Hog, Golden Langur, Indian Rhinoceros, Asiatic Buffalo etc. Other commonly seen animals are Elephant, Leopard, Clouded Leopard, Himalayan Bear, Wild Boar, Samber, Swamp Deer, Hog Deer etc.
Manas is 176 kms from Guwahati by road. The nearest airport is Lokapriya Gopinath Bordoloi International Airport at Guwahati. The nearest railhead is Barpeta Road Station which is 40 kms away from Manas.
November to April is the best time to visit in park.