Shillong, the capital of medhalaya, has been one of the most popular tourist destinations in the northeast india. It is situated at an attitude of 1,520 meters (4,990 feet) above sea level. It is situated on a plateau bound on the north by the Umiam gorge, on the northwest by the great mass of the Diengiei Hills that rise up to a height of 1,823 meters (6077 ft.) above sea level, and on the northeast by the hills of the Assam valley.
It is also known as the "Scotland of the East" due to its striking similarity with the Scottish highlands. It is located at distance of 104 km from Guwahati, 295 km from Kaziranga, 578 km from Siliguri and 658 km from Darjeeling.
Tourist Attractions in Shillong: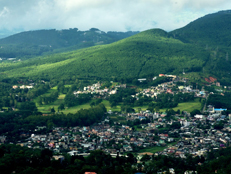 Shillong Peak : The highest point of meghalaya is situated at an attitude of 1965 mtrs from see level. It offers a panoramic view of the scenic country side. The peak is accessible via the Upper Shillong or Jowai Road.
Sohpetbneng Peak : Sohpetbneng peak is situated at an attitude of 1,343 mtrs. It is regarded as scared by the hynniewtrep people.
The Ward Lake : A horseshoe-shaped artificial lake, is an important tourist site of shillong. It is located in the heart of the city, popular for short garden walks and boating. The lake abounds in fish (grass carps) and feeding the fish from the bridge is a favorite pastime of the tourists.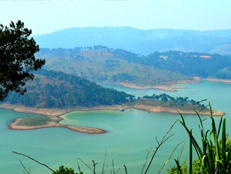 Umiam Lake : Umaim Lake is situated at Umiam, 17 kms from shilong. There are facilities for water sports including sailing, water skiing, water scooter. The Orchid Lake Resort, run by the Meghalaya Tourism Department, has pleasantly appointed rooms with balconies, a restaurant and bar.
The State Museum : The State Museum is located at the State Central Library complex in Laichumiere and visitors can catch a glimpse of the heritage and lifestyle of the Khasi tribe here. The Butterfly Museum at Riatsamthiah holds a rare collection of butterflies and moths.
Elephant Falls : 12 kms on the outskirts of the city the mountain stream descends through two successive falls set . These are beautiful sights especially in the rainy season and are favorite picnic spots among the locals.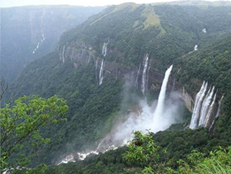 Cherrapunjee : Also known as Sohra, Cherrapunjee is situated 56 Kms from Shillong and 1300 metres above sea level. It is famous for rainiest place on the planet in all over the world. Besides a number of roaring water falls, including the famous Nohsngithiang falls the lovely town is also famous for its limestone caves, orange, honey, a headquarter of the Syiem of Sohra and a Centre of the Khasi Culture and literature.
Other tourist-interested places are botanical garden, lady hydari park, golf course, bishop and beadon falls, sweet falls, kyllang rock, noh kalikai falls, jakrem, and etc.