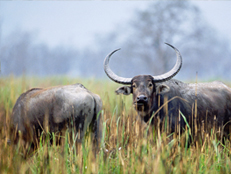 Wild Buffalo, one of the endangered species and a favorite prey for tigers is thought to survive in India, Nepal, Pakistan, Bhutan and Thailand. In India, the wild buffaloes are found in Assam and Chhattisgarh. Occasional sightings of the animal – called the Asiatic Water Buffaloes – have also been reported from Meghalaya and Maharashtra.
In India it is mostly found in Kaziranga National Park , as per the last count in 430 sqkm Kaziranga put the number of wild buffaloes at around 1400. Wild buffaloes are also important to the grassland ecosystem as they help in plant rejuvenation.
Crossbreeding with domestic buffalo as well as shrinkage and destruction of the habitat were considered major threats to the wild buffalo's survival in the range. The animal is protected by the Wildlife (Protection) Act 1972.
The International Union for Conservation of Nature (IUCN) has classified the animal as endangered in its red list of threatened species.