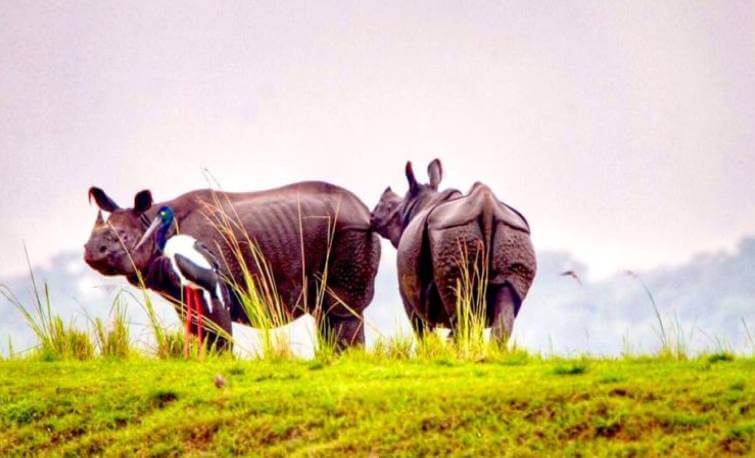 28 Oct, 2021
Best Tourist Attractions to Visit in Kaziranga National Park
Kaziranga National Park's visual landscape offers a glimpse into the Eden-like paradise.  The moment you visit here, your soul will lose its sanity as the untouched natural beauty will hypnotize you. The same happened to me when I visited Kaziranga National Park with friends.
Kaziranga National Park is one of the best wildlife destinations to visit in India. It is the crowning glory of Assam Tourism. Tall grasslands, views of one-horned Rhinos grazing before you, surreal banks of mighty Brahmaputra River and not to mention beautiful plains, Verdant forests and tropical trees. Their beauty is quite inexplicable and you won't believe it if you don't see it with your own eyes.
Also Check Out Popular Kaziranga Wildlife Tour Packages
If you are planning a trip to Kaziranga National Park, let us be your Travel guide to this enchanting and exotic wildlife destination -
Why Must You Visit Kaziranga National Park?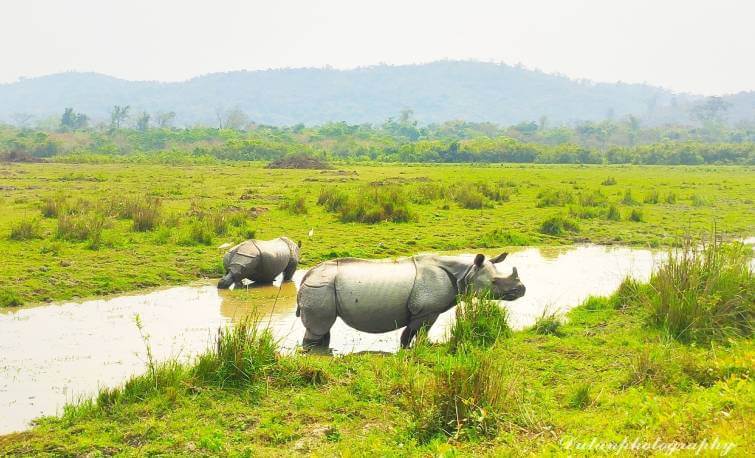 It is one of the best places to enjoy your wildlife Holidays in India. The untouched and serene beauty and solitude of nature will give you peaceful vibes.
Into the folds of Kaziranga, you will witness the world's largest population of the great Indian one horned Rhinos. Their population is around 2,413 according to the Rhino census.
It is a place with the highest Tiger density. So, wildlife enthusiasts would not be disappointed. Views of Large cats, Royal Bengal Tigers and Leopards will blow your heart away.
It is also a home to Eastern Swamp Deer which is also known as Barahsingha.
Kaziranga National Park has a fair share of Several species of vultures and snakes like King Cobra, Indian Python and Rock Python.
Scenic wetlands and migratory birds that too on elephant's back with a binocular are the best things to see in Kaziranga National Park.
Also Read:
Interesting Facts About Kaziranga
Best Places & Top Tourist Attractions to Visit in Kaziranga National Park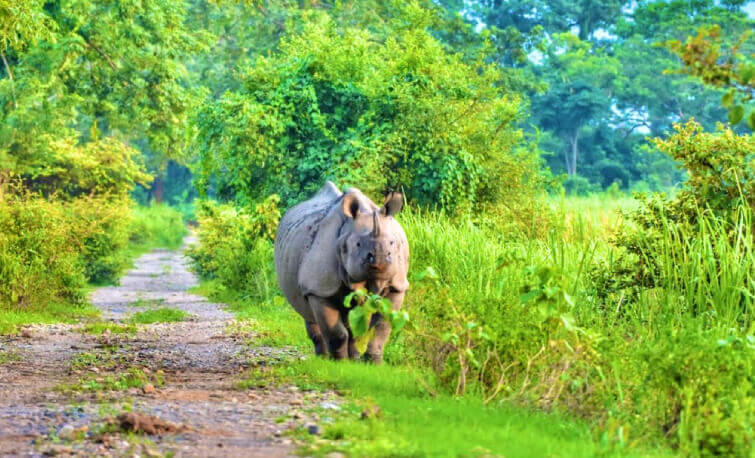 Hollongapar Gibbon Sanctuary
Kaziranga National Orchid & Diversity Park
Ethnic Village (Karbi Anglong District)
Hathikuli Tea Estate
Hollongapar Gibbon Sanctuary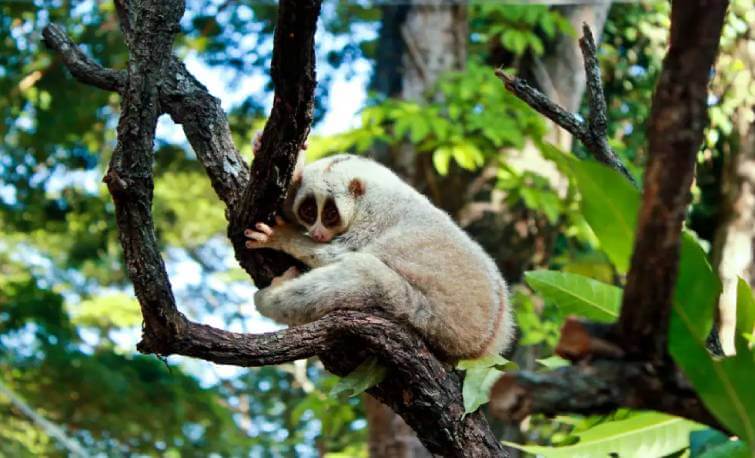 Hollongapar Gibbon Sanctuary is one of the best tourist attractions to visit in Kaziranga. It is a beautiful sight to wander in solace as evergreen forests, emerald green tea gardens, scenic villages and the magnificent views of Patkai mountain range will refresh your spirit. This sanctuary is named after Hoolock Gibbon which is the only ape species found in India.
It houses around 106 Hollock Gibbons which is a splendid sight to behold. Not only that the Sanctuary also extends to Dissoi Valley Reserve Forest which is another enchantment for nature lovers and wildlife enthusiasts.
The gorgeous tea gardens of Murumurai, Meleng, Chenijan, Rampur and Fesual, soothing sounds of beautiful birds like Green Pigeon, Owl, Dove, Drongo, Barbet etc and the healing touch of Orchids, bamboo, cane, holong and holokh trees, Ajar trees etc.  will enchant your soul forever.
Also Read:
Importance of the Conservation of Greater One-Horned Rhinos
Kaziranga National Orchid & Diversity Park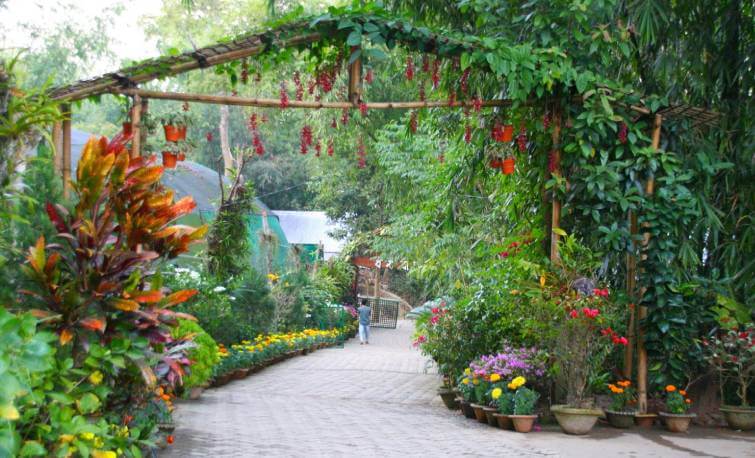 2 km from the Kohora zone of Kaziranga, the Kaziranga National Orchid & diversity park is a soul pleaser for nature lovers. It's one of the popular tourist interests in Kaziranga National Park. It houses around 600 varieties of Orchids collected from all across the beautiful North east region. The soothing calmness and gorgeous flowers will compel your lens to indulge in photography. Here you will get delightful vibes amidst nature. If this is not enough to enchant you to visit here then let me tell you this park also boasts of a rice museum, scenic fruits garden and varieties of trees and fish species.  Bamboo species and canes in the park are also awaiting your footprints in this beautiful piece of nature.
Also Read:
10 Reasons to Visit Kaziranga Tiger Reserve
Ethnic Village (Karbi Anglong District)
Welcome to the land of Karbis where your soul hums free in the lush greenery, rolling hills, green deep woods, soothing rivers and waterfalls. So, if you are in the mood to dance with the rhythm of nature and enchanting winds in Assam, Karbi Anglong is the best place to visit near Kaziranga National Park. It is located 35 km away from Nellie junction of Guwahati- Kaziranga Highway. Trekking trails to Singhason which is the highest peak of the district is one of the best things to do to experience Kaziranga tourism. Moreover, the tribal lifestyle, hills and flat lands, myriad of flora and fauna, scenic rivers make Karbi Anglong the most beautiful travel destination of Kaziranga. It remains open for 4 months only.
Hathikuli Tea Estate
Hathikuli Tea Estate is owned by James Finley of Scotland and it is a one stop destination to recoil into silence and listen to nature's music. Your Kaziranga Tour will be one of the best travel experiences in Assam if you explore this tea estate. Hathikuli means a place visited by elephants frequently (Hathi - Elephant and Kuli - Frequently). So, it would be a pleasant sight to behold majestic elephants in the midst of nature. Here you can try different varieties of tea like black pepper, organic green tea etc. to tickle your taste buds. Other than Hathikuli, the tea gardens of Bochapari, Behora and Methoni are the best places to visit in Kaziranga. If you want the best of Assam tourism these tea estates in Kaziranga also offer night stays and trust me it would be an incredible experience to live amidst the lush greenery and scenic vistas of tea gardens and gorgeous villages surrounded nearby.
Popular Things to Do in Kaziranga National Park
Enchanting Jeep Safari
Birdwatching
Elephant Safari
Enchanting Jeep Safari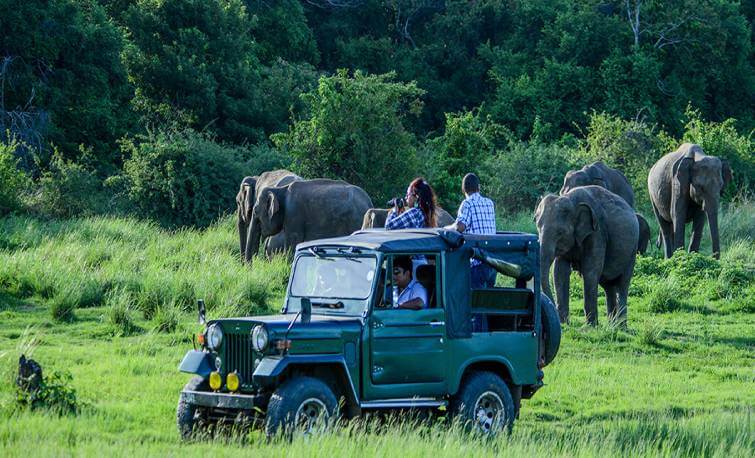 If you are in Kaziranga National Park then the one thing you must do without any doubt is the amazing Jeep Safari to enjoy Kaziranga Tour. After all, the best vistas of the wilderness can only be seen if you indulge in a Wildlife Jeep Safari. You can enjoy Kaziranga Wildlife Tour in a jeep in all the 4 zones namely Kohora, Bagori, Agaratoli and Ghorakati.
Jeep Safari Timings
- Morning Shift - 7:00am to 9:45am and Afternoon Shift - 1:00pm to 2:45pm.
Birdwatching - Soothe your ears with the beautiful chirpings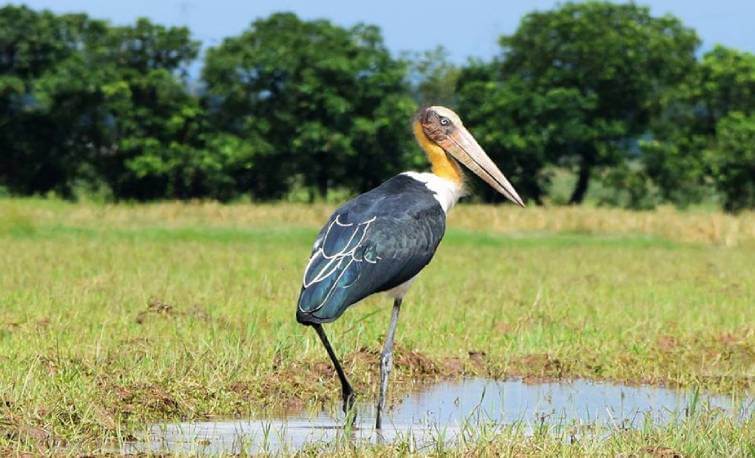 Different varieties of birds come to delight tourists every year as the mighty Brahmaputra River shares the boundary with Kaziranga National Park.  With your binoculars you can begin a journey of knowing names of different birds and capture them in your lens. Whistling teal, water lagoon, greater adjutant stork, pelicans etc. will slip into this moody forest of Kaziranga to play hide and seek with you. Sometimes they talk and their chirpings can listen to the deep silence of your soul. It is one of the best things to do in Kaziranga National Park.
Elephant Safari - Fun and thrill ride in the folds of wilderness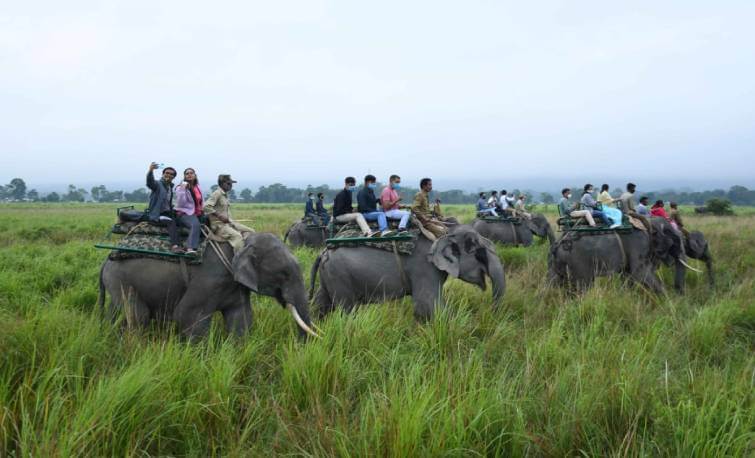 You can enjoy your wildlife Safari in Kaziranga in an Elephant Safari too. With a Jeep Safari you will witness the wilderness from a distance but an Elephant Safari will give you an opportunity to embrace the wildlife and nature in a close proximity. The thrill of adventure will elevate to a different level of bliss in Kohora, Bagori, Agoratoli and Ghoraketi if you indulge in an Elephant Safari in Kaziranga National Park.
Safari Timings
- Morning Shift 5:00am to 7:30am and Afternoon Shift - 3:00pm to 4:00pm
Kaziranga National Park Opening and Closing Time
Kaziranga National Park opens in the month of November and closes in April. It is partially opened in the months of May and October depending on the weather. During the monsoon (June to September) the park remains closed.
Kaziranga 4 Day Tour and Itinerary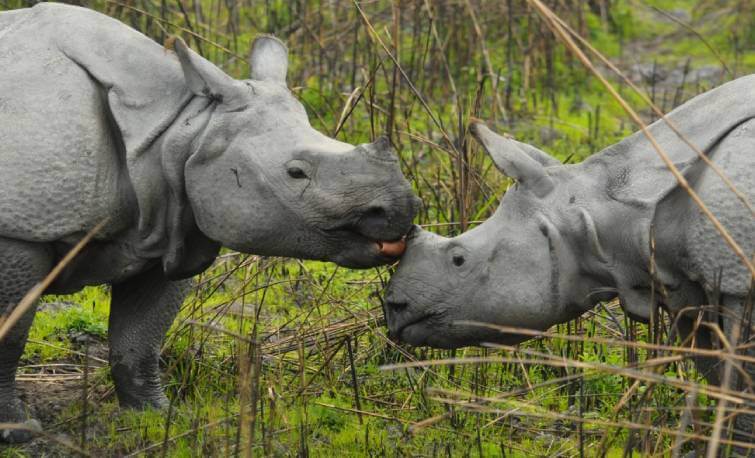 Day 1- Start you Journey by arriving in Guwahati
If you arrive at Guwahati in the late morning, you will be able to explore the tourist attractions in Guwahati. The landmark destination of Guwahati Kamakhya Temple is world famous which you must not miss and apart from that state museum of Assam will introduce you to Assemese culture. Don't forget to visit Umananda Island, Dipor Bil, Chandubi lake and Hajo to enjoy the best holidays in Assam.
Day 2 - Head to Kaziranga National Park (Duration -6-7 hours)
Check in at the hotel and relax for a day. It will be physically very tiring if you try to do the things in the same day. Let the calmness and soothing serenity of the forests of Kaziranga melt your heart for a while from a distance. Just explore the places nearby the park, it will be less tiring and full of fun. Some of the best tourist attractions near Kaziranga are - Kakochang Waterfall, Jatinga, Tea estates, Majuli and Sibsagar.
Day 3- Kaziranga Wildlife Safari
Enjoy the breathtaking vistas of nature teeming with exotic wildlife and capture amazing views in your lens. Jeep Safari and Elephant Safari are the best way to experience the rich treasure of flora and fauna this park has. You can choose any one of the Safari modes. You have to book your Safari online in advance.   Bird Watching and dancing dolphins at River Brahmaputra will melt your heart. The soothing touch of nature will relax your soul. After enjoying the Safari, head back to your hotel or resort.
Day4- Say Bye to Kaziranga National Park
After breakfast in the hotel, you have to check out and head towards Guwahati, taking with you lots of fun memories.
Kaziranga National Park is indeed a great wildlife destination in India to quench the thirst of your adventurous soul. An escape to a nature lover, thrill for a wildlife lover, palette of scenic vistas of a photographer and a bliss for a passionate wanderer - Kaziranga will continue to enchant tourists from all around the world for ages. Travelling to Kaziranga would be the best holiday plan for this year. If you have any query, you are free to ask in the comment section of the blog.
Frequently Asked Questions(FAQ)
Q. What are the top things to do for tourists in Kaziranga?
Top things to do for tourists in Kaziranga National Park are -
Elephant Safari
Jeep Safari
Bird Watching
Visiting Tea Estates
Explore Orchid National Park
Q. What is the brief history of Kaziranga Park?
Kaziranga National Park was declared as a UNESCO World heritage site in 1985. It was first established as a reserved forest in 1908 and later a game (1916) and a wildlife sanctuary in (1950). When the wife of Lord Curzon (Viceroy of India), Lady Baroness Mary Victoria Leiter Curzon visited Kaziranga in 1904, she didn't see any one horned Rhino due to lack of protection and preservation of wildlife in Kaziranga. So, it was her suggestion to turn Kaziranga forest into a reserve to protect wildlife. On 1st June 1905, Kaziranga Reserve was formed.
Q. What is the distance between Kaziranga from Shillong and Meghalaya?
Distance of Kaziranga from Shillong- 253 km by road
Distance of Kaziranga from Meghalaya - 345 km via AH1/AH2
Q. What is the best time to plan holidays to Kaziranga National Park?
Summers and Winters both are the best time to plan Kaziranga Wildlife Tour. if you are a budget traveler summers are the best time as you will get best deals and discounts on hotels and During winters the sightseeing of wildlife will be more soothing as the weather will not be so hot and humid like summer.
Q. What is the distance between Guwahati & Kaziranga?
The distance between Guwahati and Kaziranga is 193 km by road.
Q. What is the location of Kaziranga Park?
Kaziranga National Park is located partly in Nagaon District and partly in Golaghat District in Assam.
Q. When was Kaziranga National Park included in UNESCO World Heritage site?
In 1985 Kaziranga National Park was included in UNESCO World Heritage site list.
Q. What are the popular flora & fauna to explore in Kaziranga Park?
Flora - Alluvial savanna woodlands, tropical moist mixed deciduous forests, elephant grass, spear grass, cotton tree, Indian gooseberry, Kumbhi tree, sugarcane, swamplands etc.
Fauna- Royal Bengal Tiger, One Horned Rhino, Bengal Fox, Swamp Deer, Elephant, Gaur, Sambhar, Hoolock Gibbon, Golden Jackal, Hog badger, Ganges Dolphin, Leopards, Jungle cats, Sloth bear etc.