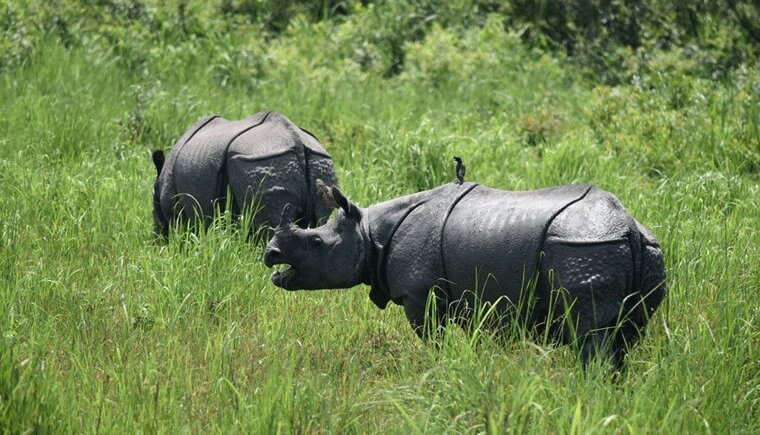 03 Mar, 2020
Fascinating Facts About Kaziranga National Park You Didn't Know
Kaziranga National Park is a UNESCO World Heritage Site, not just because it is a "significant natural habitat for conservation of biological diversity", but also because it's home to "threatened species of outstanding universal value". From migratory birds to the largest snakes in the world, you come across an amazing variety of wildlife amidst its equally amazing vegetation, which is characterized by grasslands, thick evergreen forests and trees of various kinds. In this blog, we bring you some interesting facts about Kaziranga that you didn't know, and even if you did, makes for some interesting reading again!
One of the interesting facts about Kaziranga National Park is that it is inhabited by two of the largest snakes in the world, the Reticulated Python and Rock Python, as well as the longest venomous snake in the world, King Cobra.
Kaziranga is one of the few places in the world, besides Africa, which is home to multiple species of large cats, such as leopards and Royal Bengal Tigers.
Another fascinating fact about Kaziranga is that it is home to the world's largest population of the Great Indian One-horned Rhinoceros, Wild Asiatic Water Buffalo and Eastern Swamp Deer.
According to the latest rhino census, the rhino population in Kaziranga is 2,413.
Kaziranga National Park also boasts the highest density of tigers in the world.
Although its name is associated with several legends, historians believe that it gets its name from the Karbi word, Kajir-a-rang, which means, "the village of Kajir". Kajir is a common name for a girl child, and it is widely believed that a woman by the same name ruled this area.
Perhaps you didn't know that it is the British who should be credited with the creation of Kaziranga National Park. It was in 1904 when Mary Curzon, wife of Lord Curzon, persuaded him to take immediate and effective steps to protect the rhinos in the region. And that is how the Kaziranga National Park came into being on 1st June, 1905.
The wildlife in Kaziranga is the only one of its kind where you can find the Eastern Swamp Deer, also known as Barasingha, which grows up to 6 feet in height, and can be identified by their yellow hair and distinctive white spots above their spine.
The grasslands in Kaziranga National Park have a strong resemblance to the famous African grasslands. The common tall grasses are sugarcanes, spear grass, elephant grass and common reed.
An amazing fact about Kaziranga is that it has been identified as an Important Bird Area by Birdlife International, and is home to a variety of migratory birds.
Kaziranga National Park was once home to seven species of vultures, out of which, only four have survived. These are Indian Vulture, Slender-billed vulture and Indian White-rumped Vulture.
How many of these fascinating facts about Kaziranga were you aware of and how many captured your attention? Are there any interesting facts that we have missed? If you find any information which is incorrect or needs modification, please let us know in the comment box below.