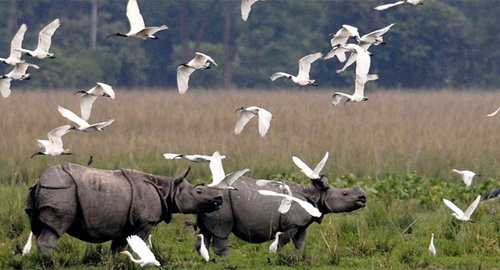 23 Aug, 2016
10 Reasons to Visit Kaziranga Tiger Reserve
The vibrant and beautiful Kaziranga Tiger Reserve holds a special and significant position in the wildlife map of India. 'Serengeti of the East,' Kaziranga Tiger Reserve is home to the highest density of tigers among protected areas in the world. Blessed with a diverse range of geographical features, this brilliant tiger reserve brings excellent opportunities to spot rare species like great one-horned rhinoceroses, elephants, wild water buffalo, and swamp deer. Avian enthusiast may also catch sight of migratory guests from as far away as Siberia.
There are so many things that make this park so special. Through this blog, have a look what all exactly make Kaziranga tiger reserve a heart-winner:
To catch sight of a rhinoceros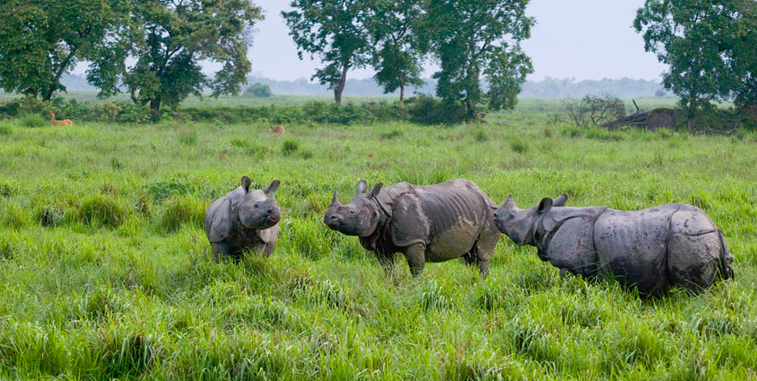 With a population of two-thirds of the world's total rhinos, evidently, Kaziranga remains crowded with tourists to catch sight of this rare creature. Reckoned as one of the best and easiest places to see rhinos snuffling across the grasslands, Kaziranga is a treat for eyes. There are approximately 2500 rhinos in the park and they are easily spottable — sometimes as many as 5 on a single plain.
To see the tigers roam like home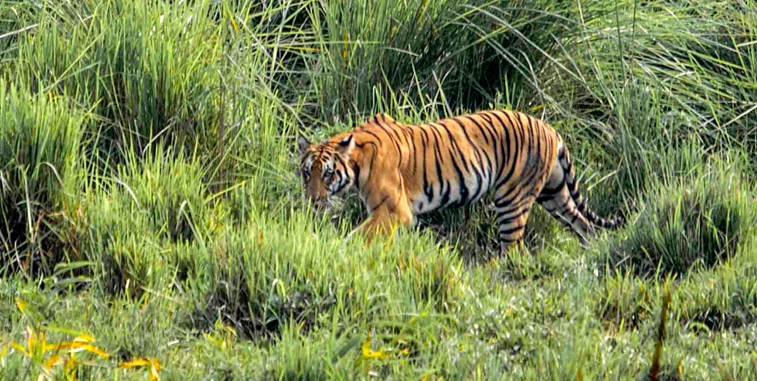 Corbett is known for its tigers, while Bharatpur has its immense bird population, but Kaziranga has both. Kaziranga is one of those rare national parks in India, where you can see the big five mammals - Indian Rhinos, Asiatic Elephants, Royal Bengal Tigers, Swamp Deer and Water Buffalo. There are approximately 86 tigers in the area but due to the tall elephant grass, its hard to spot them. Kaziranga is also the famous abode of 70% of the world's water buffaloes and more than 1,000 elephants. Other main attractions of the park are bison, swamp deer (barasingha), bear, langur, otter, jackal, to name a few.
To experience awesome wilderness areas on jeep safari and elephant safari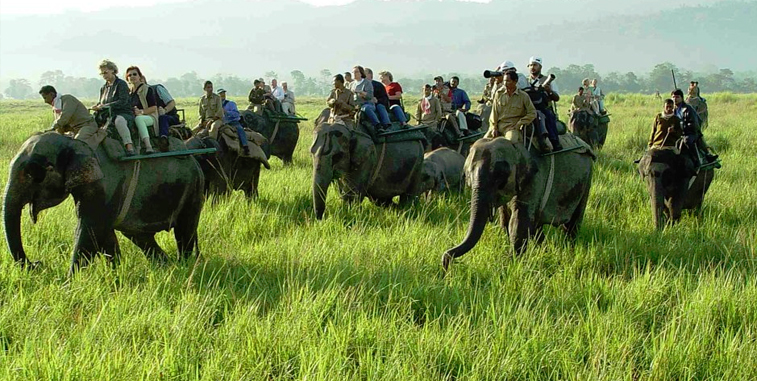 To experience the wilderness in the Kaziranga Tiger Reserve, you can either go for smooth jeep safari or bumpy elephant safari on uneven trails. Best wildlife tour option amongst these two is the elephant safari as spotting rhinos in large grassland and watching unique birds on the high-end trees is quite easy. Kaziranga opens its doors to visitors from mid-November to early April. You should go for safari early in the morning as there is a better possibility to spot birds and animals. Click here for wildlife safari timings.
Moreover, you can go for trekking, which is available only in limited area or go for cruise safari on Brahmaputra river.
To see the breeding ground of rhinos- The Centre for Wildlife Rehabilitation and Conservation (CWRC)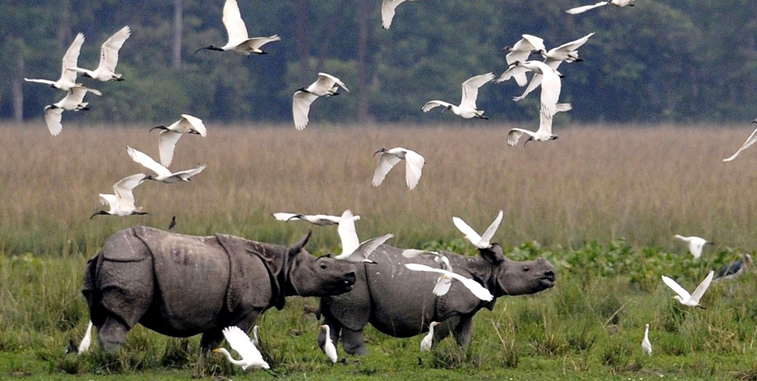 From 200 in the beginning of 20th century to more than 2500 in 2016, the strong conservation management of Kaziranga National Park is doing all the efforts to reduce poaching in the area. On a visit to the Centre for Wildlife Rehabilitation and Conservation (CWRC), you can learn about the habitat of rhinos, tigers, bird and many avian species. And get to know about poaching and the challenges which the authorities face. You should also feed a rhino calf with a giant milk bottle.
To take part in bird watching tour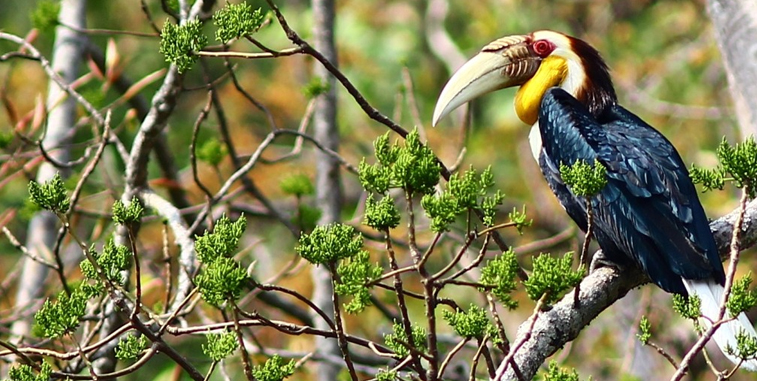 A popular wildlife destination in North East India, Kaziranga takes pride in its 478 species of birds (both migratory and resident). Birdlife International has identified Kaziranga as an Important Bird Area (IBA) for conserving its avifauna species. So if the idea of sporting birds interests you, go for an early morning bird watching tour and spot species like Crimson Sunbird, Great Hornbill, black-necked stork, red-breasted parakeet, Asian barred owlet, dusky eagle-owl, and dalmatian pelican.
To capture in camera some of the unspoiled treasures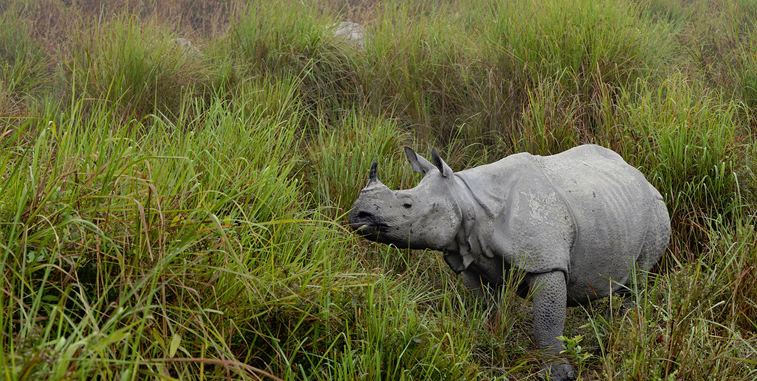 With dramatic landscapes composed of tall, dense grasslands interspersed with canebrake, open woodlands, interconnecting streams and numerous lakes, Kaziranga is evidently photographers, especially wildlife traveler, ideal background for clicking pictures. Especially when it comes to clicking to great one-horned rhinoceros. Also, you will get an opportunity to click pictures of some rare bird species like black-necked stork, red-breasted parakeet, Asian barred owlet, and dusky eagle-owl. Amidst all these, you will find so many varieties of known as well as unknown flowers that you will be confused which moment should be framed. Many tour and travel agencies keep on organizing photography tours in Kaziranga.
To attend the Kaziranga Elephant Festival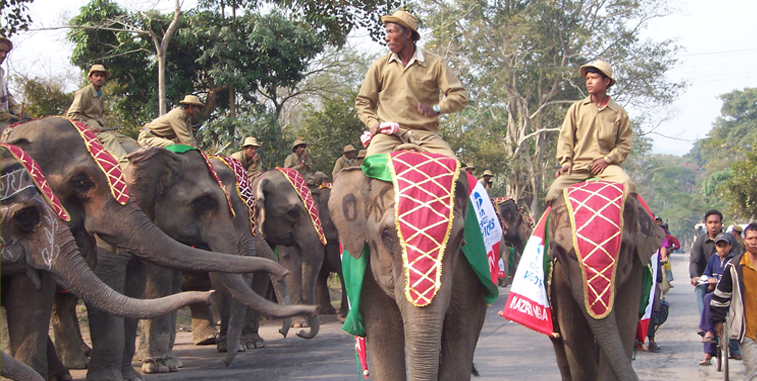 Wildlife and festivities go hand in hand in Kaziranga National Park. Many festivals celebrated in Kaziranga with great zeal and enthusiasm. But the most magnificent amongst these festivities is the Elephant festival, one of the largest elephant in India. For this day, elephants are washed, groomed and richly decorated in splendid colors. From ankle to tusk to long ears, elephants are decorated from head to toes with vibrant floral motifs, and glittering gold jewelry. On this day, they are washed, groomed and then richly decorated by their mahouts in splendid colors, with bedecked howdahs on their backs, vibrant floral motifs on their trunks, and glittering gold jewelry for their long ears, tusks and even anklets for their feet. Also, contests for elephants like racing and football are organized. The festival is celebrated every year during the month of February.
To indulge in some serious shopping
When on a trip to Kaziranga, you will come back home with packets full of handicrafts and forest products. Around the park, you can find many small shops, locally called 'haats,'from where you can purchase products at reasonable prices.
To spoil yourself with Kaziranga's quintessential touch
Along with the wildlife spotting, Kaziranga is quite famous amongst the travelers for its quirky eco-sensitive habitat or a stunning, eco-sensitive boutique-meets-heritage hotel that cut-backs carbon footprint. Providing the visitors a unique environment, world class cuisine, and endearing hospitality, luxury hotels, and resorts of Kaziranga National Park are the best places to knock off after a long day at the jungle spotting animals and birds.
To explore the epic landscapes of Kaziranga
From dense elephant grass to marshlands to riverine and tropical forests, the 430 square kilometer area of Kaziranga has dramatic landscapes. And perhaps this is the reason why Kaziranga is labeled as the 'biodiversity hotspot.' Also, the park is surrounded by famous tea plantations, which are a must visit. To witness the best of the wildlife tourism places of the park, visit here during the evening when the sun slides below the horizon, and birds fly in troops returning to their nest. As compared to other wildlife sanctuaries and national park, Kaziranga is distinctive, prominent, and instantly recognizable natural landmarks.
The park is so beautiful that it has grabbed the eyeballs of many prominent celebrities, even the Duke and Duchess of Cambridge. So, after reading this blog, if you're equally fascinated by the idea of taking a trip to Kaziranga then allow us to design your own wildlife holiday. You can call us at call us at + 9212777225 / 9212553107.