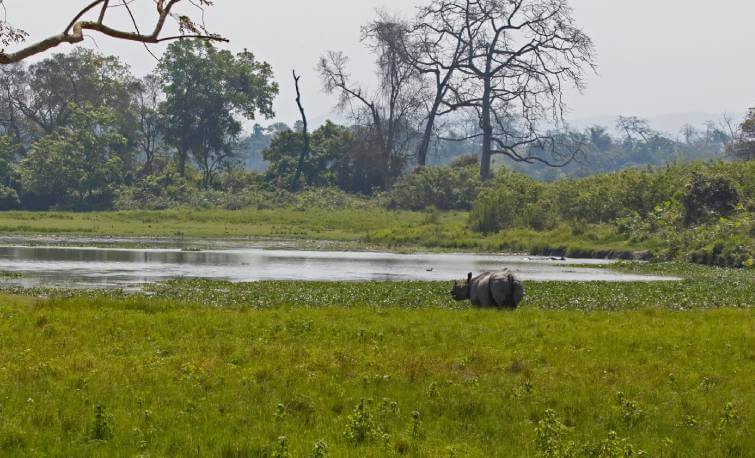 03 Jun, 2022
Kaziranga National Park Sets a Record Revenue of Rs. 6 Crore with More Than 2.75 Lakh Tourist Footfall
"There is a 64% increase in the total tourist footfall over the last two years."
Kaziranga National Park and Tiger Reserve receives an all-time high tourist footfall of over 2.75 Lakh and sets a record revenue collection of Rs. 6 Crore during the October 2021 to May 2022 period. The park has closed for tourists for now owing to the monsoon season and will reopen in the month of October.
The UNESCO World Heritage Park, KNP&TR (Kaziranga National Park & Tiger Reserve) is located in Assam and established in the year 1905. Spread across five villages in Assam, the park is a protected area and home to Royal Bengal Tigers, world's largest population of one-horned rhinoceroses, Asian Elephants, bears, panthers and over 125 rare species of birds. Covering an area of approximately 859 square kilometres, this park has become one of the major tourist attractions in Northeast India among wildlife enthusiasts across the globe. Every year, it sees an average of 1.8 Lakh tourists in the season October to May.
However, the tourist flow was affected during the last two pandemic years, and this year it has become a record.
Jatin Sharma, the director of KNP&TR said, during the period a total of 2,75,835 lakh tourists including 2,74,116 lakh domestic and 1,719 international visited the park. Whereas in 2020-2021, the park received only 1,67,644 tourists, and in 2019-2020 only 1,42,859 tourists. In total, there is a 64% increase in the annual footfall of tourists.
He also said that for the protection of animals and the development of the park the Assam Forest and Wildlife Department has taken some steps to eradicate poaching and other ones.
Kaziranga News Inputs.
You May Also Like to Read:
Popular Posts
---
Follow Us
---
Recent Posts