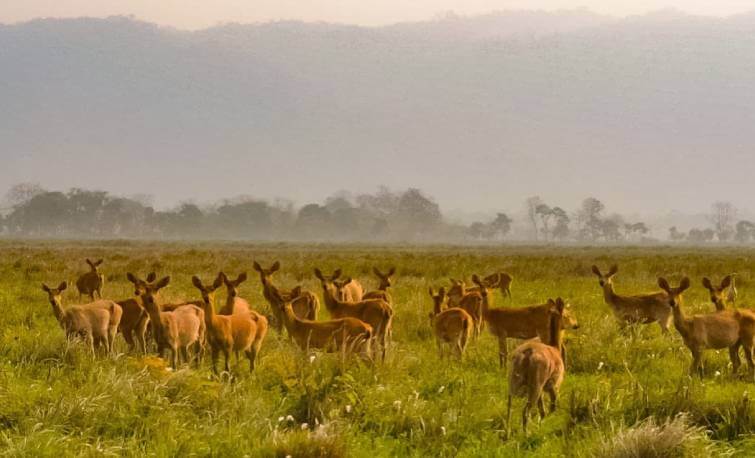 12 Jan, 2022
Swamp Deer Census in Kaziranga National Park and Adjoining Areas After Three Years
As per the latest information from TOI, the authorities of Kaziranga National Park in Assam conducted a census on the Vulnerable Eastern Swamp Deer for the first time after three destructive floods since 2018.
Last three years have been very devastating for this UNESCO World Heritage Site during monsoons.  The census is conducted to check the population of Eastern Swamp Deer, whether they have gone up or down in the light of three massive floods that have happened since 2018.  Earlier the census was done in the core area of Kaziranga National Park, in the Eastern Assam Wildlife Division.
Park Director P Shivkumar Said "This time, we are doing the census in Eastern Assam, Biswanath and Nagaon Wildlife Divisions of KNPTR. The Sub- species had already spread to the adjoining areas and thus, the census will give an idea how the whole landscape is being used by it". From 480 Sq. km, this time the census will cover 1000sqkm.
It is a very good initiative of the officials to measure the count of Eastern Swamp deer as they are the most vulnerable species to floods. They live around the water bodies in the open spaces. So, it is very essential to check their count. On the other hand, Hog Deer has the highest population in Kaziranga, accounting for over 40,000.
In this census a total of 35 Elephants were also pressed into it with the aid of independent researchers in the forest department. According to the sources of forest department flood results may be the reason for their decline in the population but for now it's not a cause of concern.
Kaziranga News Inputs.
You May Also Like to Read
Popular Posts
---
Follow Us
---
Recent Posts