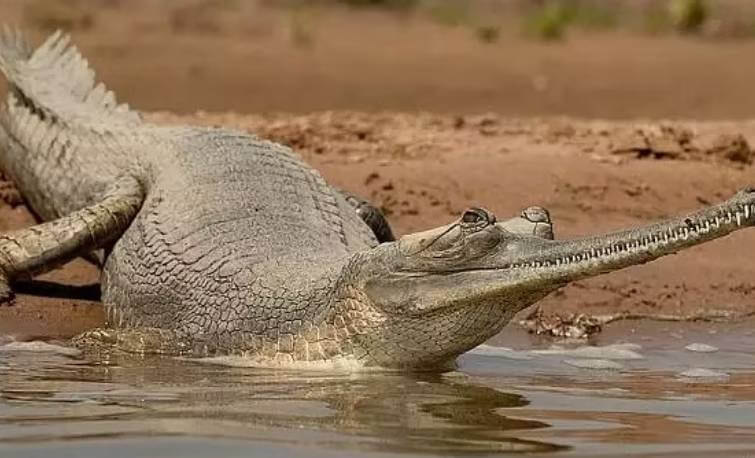 01 Nov, 2022
Endangered Gharial Spotted in Dibru – Saikhowa National Park, Assam
The first evidence of endangered Gharial has been recorded in Dibru-Saikhowa National Park (DSNP) by the forest officials on October 27th, 2022. The incident has undoubtedly given the reasons for Assam wildlife lovers, as well as the enthusiasts in the entire country to be delighted as the endangered gharial crocodiles (Scientific name: Ganvialisgangeticus) found their homes in DSNP.
During a routine assessment, a group of forest officials led by DFO KK Deuri and Guijan Forest Ranger Santana Medhi saw the reptile in the Dibru River. Later, they discovered the Gharial's imprints on a sandbar, enjoying the sun. The animal, which is classified as one of the critically endangered gharials, was captured on camera at a distance, with its torso and snout clearly visible. However, more details about the gharial found in Dibru-Saikhowa National Park in Assam cannot be captured as Ranger Medhi explained that because it was an unexpected sighting, the squad did not have a sophisticated camera.
Ranger Medhi also said that as there was no official record found earlier about the critically endangered species, this incident will be recorded as the 'first sighting.' He also said that the imprints were found in Chitibam, which is in the core area of DSNP. More surveys will be conducted in the area in near future, acknowledged from his statements.
According to the IUCN (International Union for Conservation of Nature) Red List, the reptile species, the gharial, is classified as critically endangered and is therefore included under Schedule 1 of the Wildlife Protection Act, 1972. The species has been tagged as critically endangered since 2007 and after two years, since January 2009, a gharial reintroduction programme has been launched for saving the gharials in India. Hopefully, the wildlife conservation efforts did not go in vain as the first evidence of the species has been found in Assam.
Another great news related to the wildlife in Assam is, a female Gharial was recently seen in Kaziranga National Park as well.
Some interesting facts about Gharial are:
Gharials are known for their sharp, interlocking teeth and narrow, elongated snout.
The gharial belongs to the Gavialidae family.
One of the amazing facts about gharials is that they are also known as fish-eating crocodile or gavial due to their food habit.
Gharials can be found in sandy banks, rivers and riverine.
Male gharials have an average length of 5.7 m (19 ft)
The lifespan of the gharial is around 50 to 60 years.
The top speed of gharials can be up to 28 kilometres per hour underwater.
Assam Latest Wildlife News Update.
Other Interesting Blogs to Read
Frequently Asked Questions
What is the largest Gharial?
The largest gavialidae or Gharial was the extinct Rhamphosuchus from the Miocene of Asia.
What is the English name of Gharial?
Asian crocodilians known as Gharials, also known as gavials, are identified by their long, thin snouts.
How heavy is a Gharial?
An adult Gharial can be weight up to 160 kilograms.