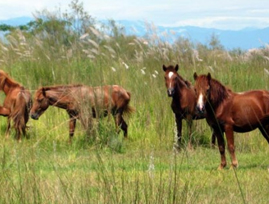 Dibru-Saikhowa is a National Park as well as a Biosphere Reserve situated in the south bank of the river Brahmaputra in the extreme east of Assam state in India. Dibru-Saikhowa, with an area of 340 sq km, is among the most vibrant wildness on earth and is also distinct for its pristine scenic beauty. Situated in the flood plain of Brahmaputra, Dibru-saikhowa is a safe haven for many extremely rare and endangered species of Wildlife.
The forest type of Dibru-Saikhowa comprises of semi-evergreen forests, deciduous forests, littoral and swamp forests and patches of wet evergreen forests. Famed for Ferral horses, a total 36 species of mammals and above 400 species of birds have so far been recorded from the Dibru-Saikhowa National Park.
Fauna : 36 species of mammals have so far been recorded – Tiger, Elephant, Leopard, Jungle Cat, Bears, Small Indian Civet, Squirrels, Gangetic Dolphin, Slow Loris, Assamese Macague, Rhesus Macaque, Capped Langur, Hoolock Gibbon, Wild Pigs, Sambar, Barking Deer, Water Buffalo, Feral Horses etc.
Avifauna : It is an identified Important Bird Area (IBA) having more than 382 species of Birds, some of which are Greater Adjutant Stork, Lesser Adjutant Stork, Greater Crested Grebe. Large Cormorant, Open bill Stork, Black necked Stork, Large Whistling Teal. Grey leg Goose, Grey-headed Fishing Eagle, Griffon Vulture, Osprey, Crested Serpent Eagle, Spot Billed Pelican, White Winged Wood Duck, Baer's Pochard, Greater Spotted Eagle, Pale Capped Pigeon, Great Pied Hornbill, Marsh Babbler, Jerdon's Babbler, Black Breasted Parrot bill, etc. The Park is renowned for natural regeneration of Salix trees.
How to Reach Dibru-Saikhowa National Park
By Air : The nearest airport is situated Mohanbari, Dibrugarh, which is 40 kms. away from the park. The other airport is located at Guwahati, 500 kms.
By Train : Distance from Tinsukia railway station to Guijan & Dhola entry point is 10 km & 50 respectively.
By Road : Regular buses ply to and from Tinsukia, which is well connected with all the major cities of Assam.
Best Time to Visit : November to April is the best time for visit in Dibru-Saikhowa national park.
Clothing : Woolen in winter, light cotton in would be suitable in Summer.
Accommodation : Banashree Eco Camp.