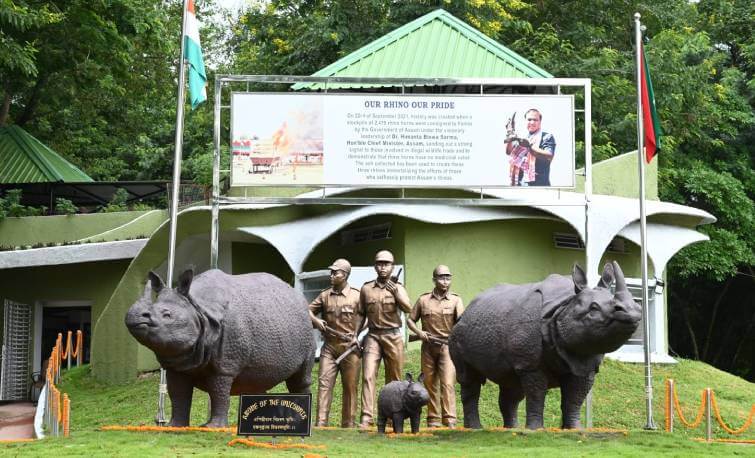 27 Sep, 2022
Kaziranga Gets Three Rhino Sculptures Made of Burnt Horns Ash
Three rhino sculptures have been unveiled in the premises of Kaziranga National Park in Assam. The group of three sculptures are called 'Abode of Unicorns' and it has a male rhino, a female, a calf and three forest guards. Worth mentioning that, the three rhino sculptures are made out of the ash of burnt 2,479 rhino horns.
According to reports, Chief Minister of Assam, Himanta Biswa Sarma along with Sadhguru Jaggi Vasudev unveiled the three rhino statues at Kaziranga National Park on September 24, Saturday.
The interesting facts about the rhino statues are:
56 kg of burnt rhino horn ash was used in the making of the three rhino sculptures.
This ash is collected from 2,479 seized rhino horns, which were consigned to flames last year on World Rhino Day.
The horns were collected and seized over the past four decades.
The rhino memorials in Kaziranga National Park are crafted by the sculptor Biju Das.
The dimensions of the sculptures are as follows:

Male rhino: 10.5 feet long and 6 feet tall
Female: 11 feet long and 5.6 feet tall
Calf: 3.5 feet long and 1.5 feet tall

Along with three rhino sculptures, there are also three statues of forest guards.
The statues of the guards are made of different materials and sculptor Biren Singha made them.
It takes around four months to finish the whole job.
An estimated amount of Rs. 10-12 lakh went in the making.
Kaziranga Field Director, Jatindra Sarma said this one-of-its-kind move has been taken by the authority to immortalise the efforts of people who constantly and selflessly protect the pride of Assam, the one-horned rhino. He also said that it is the aftermath of the discussion held last year between Assam's Chief Minister, Himanta Biswa Sarma and the Chief Wildlife Warden, MK Yadava on how the ash could be used as it cannot be preserved.
Jatindra Sarma also mentioned, "Through this memorial, a message was also sent to the international community that rhino horns were burnt in Assam. The horns have no medicinal value. As such, there shouldn't be any poaching. Let them live freely."
The statues are kept in the open so that tourists can get a clear view of them. Rhino poaching activities have come down drastically after 2016 with the constant efforts made by the park authority and the state government.
Some more info about Kaziranga National Park:
The national park and tiger reserve was established in 1905 and is now a UNESCO World Heritage Park, declared in 1985.
The national park covers an area of 859 square kilometres and is spread across five villages in Assam.
Kaziranga National Park and Tiger Reserve, which is also popularly known as the Eastern Himalayan biodiversity hotspot is home to the two-thirds population of the world's one-horned rhinoceros.
It is also an Important Bird Area.
The park remains open from November to April and it is an ideal place to experience Elephant Safari, Jeep Safari, Birdwatching and Hiking.
If you are also interested in doing these activities in Kaziranga, follow us on social media or our blog to know more.
Frequently Asked Questions
How many rhino sculptures are unveiled in Kaziranga National Park?
Three rhino sculptures along with three statues of forest guards have been unveiled in Kaziranga National Park.
Who unveiled the rhino memorials?
Chief Minister of Assam, Himanta Biswa Sarma along with Sadhguru Jaggi unveiled the memorials on September 24.
Which materials have been used in the making of rhino memorials in Kaziranga?
128.56 kg of 2,479 burnt rhino horns ash has been used in the making of three rhino sculptures.
Popular Posts
---
Follow Us
---
Recent Posts