Pobitora National Park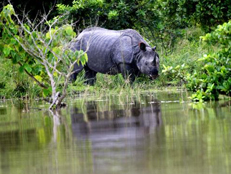 Pobitora National Park is situated in the Morigaon district of the state of Assam. The national park is located about 48 km by from Guwahati. It is a 1-hour drive through a road passing by River Brahmaputa, and a small portion of the village of Mayong. It has a dense population of the Great Indian one-horned rhinoceros. It covers 38.8 km2. Though the total notified area of the park is 38.80 square kms, only 16 square kms is the effective rhino habitat. Pobitora was declared a reserved forest in 1971 and a wildlife sanctuary in 1987. It covers flat flood plains and a hillock (Raja Mayong).
Wildlife in Pobitora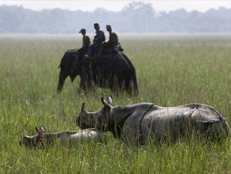 Pobitora is mainly famous for its great Indian One-horned rhinoceros. Besides rhinoceros, the other animals are leopard, wild boar, Barking deer, wild buffalo etc. Assam's Pobitora Wildlife Sanctuary is also home to more than 2000 migratory birds and various reptiles. It is also an Important Bird Area. In Pobitora wildlife sanctuary, there are now around 93 rhinos, a ten per cent increase over the last six years. These 93 rhinos are surviving on merely 16 square km area of the park.
Jungle Safari Timings:
Elephant Safari: 06:30 AM / 07:30 AM and 14:30 PM
Jeep Safari: 07:00 AM and 15:00 PM