Things to do during stay at Wild Mahseer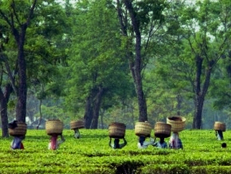 Tea Time Elephant Trek : Delight in the contrasting experience of riding a hulking, rugged elephant to an elegant tea party. in fact the most aptly named tea party in the world. one laid out in the tranquil setting of a genuine tea garden!
The staff can take photos as guests greet their personal elephant for the afternoon and clamber on top of the magnificent beast, one of the most revered creatures in India. The mahout (elephant minder) then gives the signal to ride out of the estate through local villages, bamboo groves and farmland, across babbling brooks and dried up river beds where, on a clear day the distant Himalayas are visible, and finally into the neighbouring tea garden where a white lacy cloth-covered table set with classic bone china awaits.
Tea Tasting : Surrounded by fresh tea bushes it is only natural guests will want to savour "the cup that cheers". While staying right in the heart of Assam, a region famous for its black tea noted for its body, strong bright colour and unique malty flavour, some may like to take this further and become initiated into the mystique of tea.
Tea Plantation & Factory Tour : After the tea plant Camellia sinensis was discovered growing wild in 1823 near Dibrugarh, Assam developed into one of the largest tea growing regions in the world and became famous especially for its black tea, noted for its body, briskness, unique malty flavour and strong bright colour. We feel, therefore, that a visit to our state is incomplete without gaining some understanding about the magic of tea.
Experimental Organic Cultivation Station : Using the ancient wisdom of vrikshyurveda (meaning "ayurveda for the trees") derived from a Sanskrit text describing the science of ancient agricultural practices, Wild Mahseer actively promotes organic cultivation and is a flourishing biodiversity hub.
Balipara Saturday Market : Guests will very likely notice an expanse, empty except for a few makeshift-looking bamboo structures, on the approach road just before reaching Wild Mahseer. This is the Balipara market site which, for one day each week, is transformed into a hive of activity as stallholders bring in their assorted merchandise to display and sell.
Cooking Classes : During our guests' stay with us at Wild Mahseer one thing we absolutely guarantee is to take care of their taste buds.
So why not pick some fresh seasonal produce from our vegetable and herb gardens, come into the kitchen and learn to cook a selection of North Indian, Assamese and Anglo-Indian dishes?
Scenic Walks & Bicycle Rides : Wild Mahseer is so much more than a beautiful retreat. It's true, guests will marvel at our bungalows' manicured English country gardens with their immaculately kept lawns and flowerbeds in season blooming with marigolds and roses. They are tranquil oases set in the midst of the untamed jungle of tropical trees and plants.
Tennis & Golf : If guests want to play a game of tennis or hit a 9-hole round of golf we can arrange it on Club Days at our local century-old Thakurbari planters' club, a 30-minute drive from Wild Mahseer. Club Days at Thakurbari are every Wednesday and Sunday between November and April.
Elephant & Jeep Safaris at Kaziranga National Park : Kaziranga National Park, a World Heritage Site, is only a 2-hour drive from Wild Mahseer. Bordering the southern banks of the mighty Brahmaputra River it is situated in the Golaghat and Nagaon districts of Assam. It was declared a Tiger Reserve in 2006.
Angling : If guests have a passion for angling they will be happy to know that Wild Mahseer is situated in an excellent location for this sport. It is only a few minutes drive from the Jia Bhoroli, home to the tiger of Himalayan rivers, the golden mahseer. The mahseer (after which our property is named) is one of the most ferocious game fish in the world and can reach up to 2.7 m in length. When hooked it surely puts up an epic battle!
Trekking : We at Wild Mahseer can arrange for guests to take jungle treks at both Kaziranga and Nameri National Parks.
Bird Watching : Assam is home to more than half of approximately 1,200 varieties of avifauna recorded in the Indian subcontinent and we at Wild Mahseer can arrange for guests to go bird watching at both Kaziranga and Nameri National Parks.
Dolphin Watching : At Brahmaputra Ghat guests descend down the sandy bank to the river's edge and clamber onto an open country boat for a peaceful cruise down the river. At some point almost everyone will see the dolphins frolicking and feeding in the river, as well as many different species of birds.
River Rafting : River Rafting on the Jia Bhoroli near Wild Mahseer is one of the most relaxing and tranquil experiences in the world and should not be missed.
Ethnic Village : While helping our NGO partner Balipara Tract & Frontier Foundation fulfill its aim in promoting and showcasing the rich and bio-diverse cultures of Assam we have built up a close relationship with the villagers of Baligaon, a unique community belonging to the Mising. The Mising, the second largest ethnic group in Assam, originally a hill tribe from Tibet and Mongolia, settled on the plains of Assam around the 8th century. They have their own language which can be traced to some Tibetan/Mongoloid languages and which follows the Roman script.
Tezpur Temples : Set among tea gardens, military cantonments and built around several lakes, Tezpur is located on the north bank of the Brahmaputra River in the district of Sonitpur, central Assam, and less than a 30 minute drive from Wild Mahseer. With the snow-capped Himalayas as its northern backdrop, this scenic town has a fascinating history.