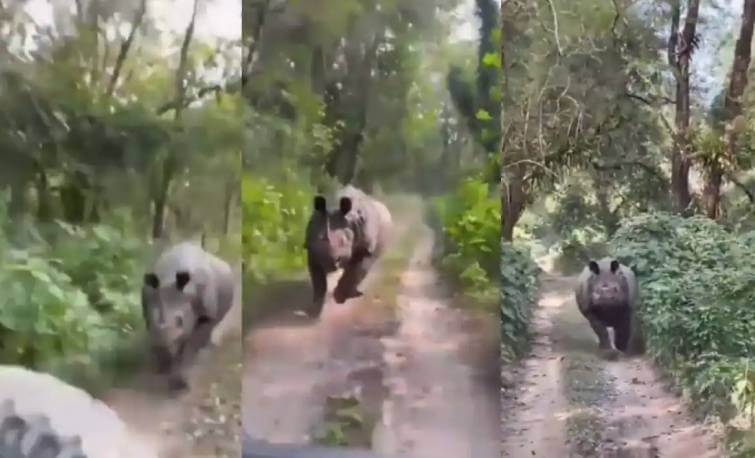 02 Jan, 2023
Viral Video Shows Rhino Chasing Safari Vehicles in Kaziranga National Park, Assam
The latest Kaziranga National Park viral video shows a rhino vigorously chasing a safari vehicle inside the forest. However, as per some of the recent reports, this is not the first time; such incidents have been reported several times in recent times.
The latest Kaziranga rhino viral video shows a convoy of safari vehicles speeding up through a narrow track inside the forest with shouts like "move move" in the background. Then, it reveals the reason as it shows the tourists were screaming their hearts out in terror as a rhino was running towards their vehicle.
This rhino got no chill. A rhino chasing vehicle at Kaziranga. pic.twitter.com/P9F5CXbSC4

— Parveen Kaswan, IFS (@ParveenKaswan) December 31, 2022
Reportedly, the viral video, which shows the rhino chases a tourist vehicle in Kaziranga National Park, was taken in the Habari zone where the rhino chased the vehicle for about three kilometres before it vanished into the forest. According to tourists, the animal suddenly appeared from a bush and started chasing them.
Just a few days ago, a video of a rhino chasing visitors in Assam was doing rounds on the internet and as per reports, it was taken in Manas National Park.
These incidents made the national park authorities as well as the wildlife enthusiasts worried about the wildlife, specifically about the rhinos. As per them, the incidents clearly show the animals' discomfort with human involvement in their natural habitat.
Here are some of the tips to avoid such close encounters with wildlife in forests or national parks and wildlife sanctuaries:
Do not get too close.
Do not provoke any animal.
Do not surprise a mother with her babies.
Do watch for animal tracks.
Do not feed animals.
Most importantly, listen to the guide or the driver carefully. Do not force them to take any action.