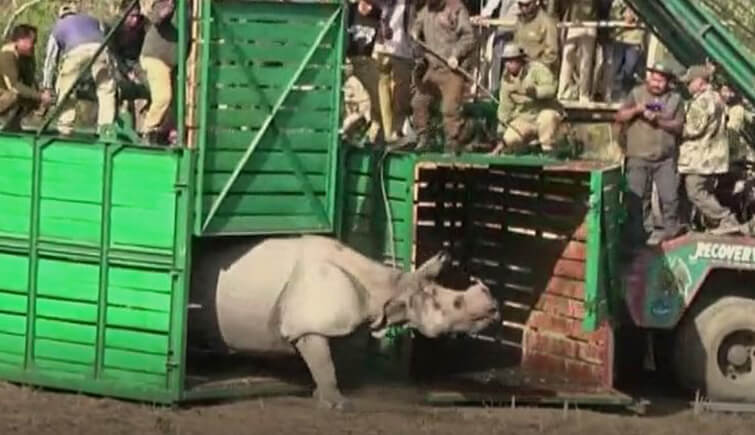 06 Mar, 2020
Manas National Park Welcomes 2 Female Rhinos from Kaziranga
Once again, the UNESCO Natural World Heritage Site, Manas National Park in Assam, welcomed two adult female rhinos from Kaziranga National Park on 2nd March 2020. Well, this was a part of the translocation programme, Indian Rhino Vision 2020 by the Forest Department of Assam.
Let's Dive Deep into It
The two female adult rhinos were translocated to Bahbari range of Manas National Park in a special vehicle while the forest officials performed prayers before releasing the rhinos in their new habitat. With the arrival of two new guests, the total number of rhinos has now increased to 43 in the national park. This isn't the end though. In the coming days, two more rhinos will be translocated to Manas National Park.
Adding to this, Anindo Sworgowari, the PCCF and CHD Forest of Bodo Territorial Council (BTC) region, informed that Rhino Vision 2020, which was launched in 2005, aims to achieve a total of 3,000 greater one-horned rhino population over seven protected areas of Northeast Indian state of Assam by 2020.
The Reason Behind Rhino Translocation
As a part of Manas Conservation, rhinos in Manas National Park were reintroduced in 2008, right after the death of nearly 100 rhinos (killed by poachers) during the peak of insurgency in Assam in the early 1990s. Between 2008 and 2020, a total of 20 rhinos from Kaziranga National Park and Pobitora Wildlife Sanctuary have been successfully translocated to Manas National Park.