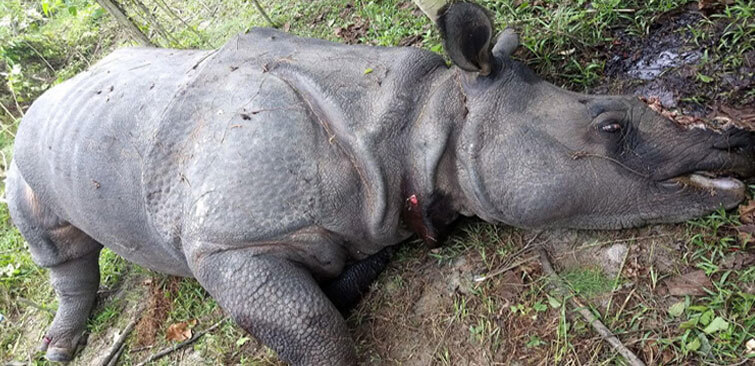 05 Mar, 2018
Female Rhino Hunted Down for Horn After Drifting Away from Kaziranga National Park
It seems like there is no good news in cards for Kaziranga National Park as one more rhino was found dead with her horn missing. The incident that took place at Lohore Chapori in Majuli district makes up for the third rhino death of the year. Where the first one was poached on 14 January in the Daflang camp area of Bagori range, the second was slayed on 11 February at Polokata Tapu under Lahorijan forest camp. What adds more to the sorrow is that the rhino had strayed away from the National Park in search of food, of which the poachers took advantage and fled with her horn. The local forest officials along with the Divisional Forest Officer (DFO) of Kaziranga were duly informed about the incident by the villagers and hence they determined to initiate the search operation to locate the poachers.
It doesn't come up as a surprise for Wildlife experts that rhinos escape their natural habitat looking for food and taking advantage of this situation, the poachers gunned down the female rhino with a total of nine rounds of .303 rifle bullets, cartridges of which were later spotted on the location. As per the DFO the female rhino fled away from Agoratoli Range of the Kaziranga National Park on 22 February.
Kaziranga News Desk...