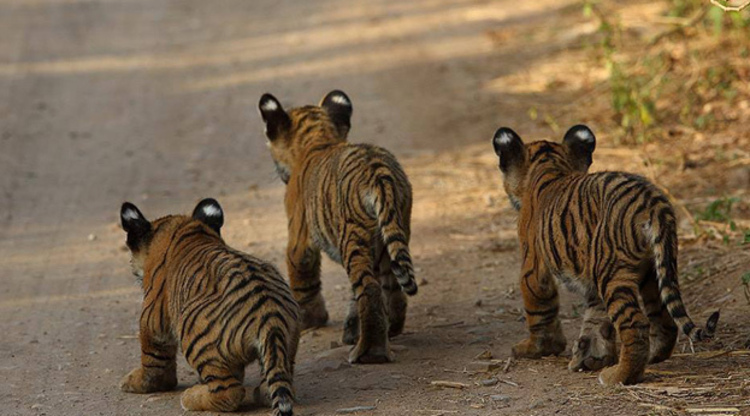 16 Jun, 2017
Kaziranga Becomes 21 Tiger Richer in 3 Years: Count Goes Up from 83 to 104
Known for its rich one-horned rhinoceros population, Kaziranga National Park in Assam is now making news for its increasing tiger count as well. The latest estimate suggests that the national park together with Burachapori (250 kms from the park; the two also form the Kaziranga Tiger Reserve) is now home to about 104 tigers. It is noteworthy that the significant increase in the tiger count have been witnessed over past three years, when the park housed 83 tigers.
It is also estimated that there are 95 adult tigers in Kaziranga National Park, whereas, in Burachapori, 2 adult tigers and their cubs were found. With 104 tigers living in the 860 sq km Kaziranga Tiger Reserve, the density of these big cat is being suggested as 21 tigers per 100 sq km. According to the field director of Kaziranga, Satyendra Singh, there are chances that the reserve has more tigers than estimated. He even said that the thriving tiger population in the park possibly construes that there is a rich prey base available for these big cats.
Kaziranga is amongst the most popular national parks in India, and is recognized for its effective measures for the conservation of One-Horned Rhinoceros. In Assam, Manas, Orang and Nameri are three other important wildlife reserves that also conserve a fair number of tigers, with Orang having the highest tiger density in the country with 35.44 tigers per 100 sq km. On the other hand, Manas National Park, a World Heritage Site, houses 30 tigers.
Kaziranga News Desk...
You may also like to read: