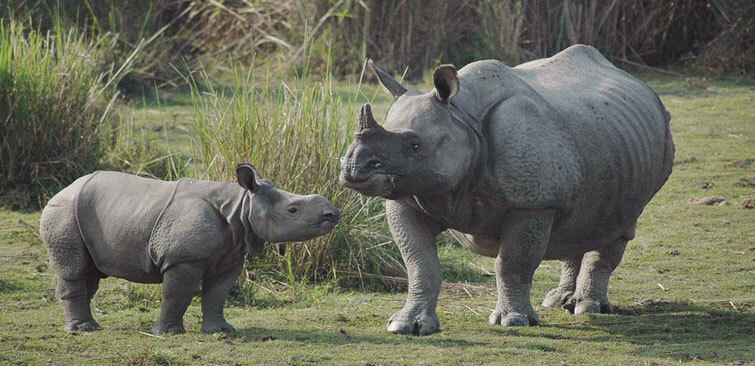 02 Apr, 2018
Good News for Kaziranga: One-Horned Rhino Population Rises by 12
It's raining good news for the National parks in India, as Kaziranga National Park, elates with joy on the rise in the number of one-horned rhinos. The survey that took place over the duration of two days evaluated that the rhino population has reached 2413 this year where the whole state is believed to harbour 2,645 rhinos in total. Home to almost 70% population of the one horned rhino in the world, Kaziranga now shelters 155 calves; 230 rhinos under the age of 1 year; 116 males, 149 females and 122 unsexed rhinos in the 4-6 years age group; 642 males,793 breeding females and 206 unsexed rhinos fall in the adult age group. For the evaluation, the UNESCO World Heritage Site was divided into 74 compartments covering the area of 882 sq km along with the Brahmaputra river zone, where the park authorities with the help of 17 SUVs and 40 elephants did the survey.
As per the State's Chief Wildlife Warden, there can be a difference of 100 on the positive or negative side in the counting as it was affected by the thick and tall grasslands plus low visibility level. Even the park authorities were not really happy with the survey as the grass in most of the National Park's area couldn't be burned causing visibility issues. Furthermore, the state principal chief conservator of forests (wildlife), NK Vasu added that if the technical committee suggests, then recounting will take place next year.
If we go back to the year 2006, the population then was 1855 which increased to 2048 in 2009 and has been rising positively ever since. But not to forget the poaching cases that reached a no. of 239 in between 2001-2016, this year itself has seen 3 poaching cases till now. Kaziranga also bid the last goodbye to 342 rhinos in between March 2015-March 2018.