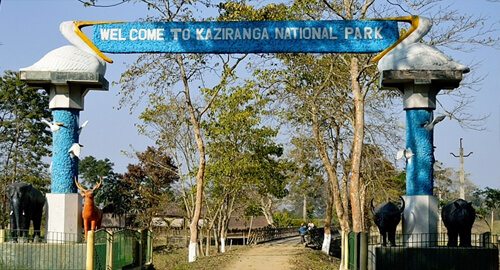 29 Aug, 2016
Kaziranga National Park will Remain Open for Eight Months
To up the tourism quotient in Kaziranga National Park, the BJP led government of Assam has decided to keep Kaziranga National Park (KNP) open for tourists for eight months on experimental basis instead of current six months. Chief Minister of Assam, Sarbananda Sonowal asked Daresh Mathur, Principal Chief Conservator of Forests (PCCF), to keep the park open on the experimental basis when on a meeting with civil, police and forest administration officials of Golaghat and Nagaon districts at Kohora to review safety mechanism. During the meeting, forest officials briefed Sonowal about baby rhinos, baby elephants, and some other animals, who were displaced from their attempt to escape to higher grounds during the flood. Chief minister also visited the Centre for Wildlife Rehabilitation and Conservation to feed few rhinos and elephants.
In the year 1985, Kaziranga National Park was inscribed in UNESCO world heritage site list. Kaziranga National Park is known for world's largest population of the one-horned rhinoceros, and highest density of tigers among protected areas in the world.
Economic Times News Input...
You may also like to read