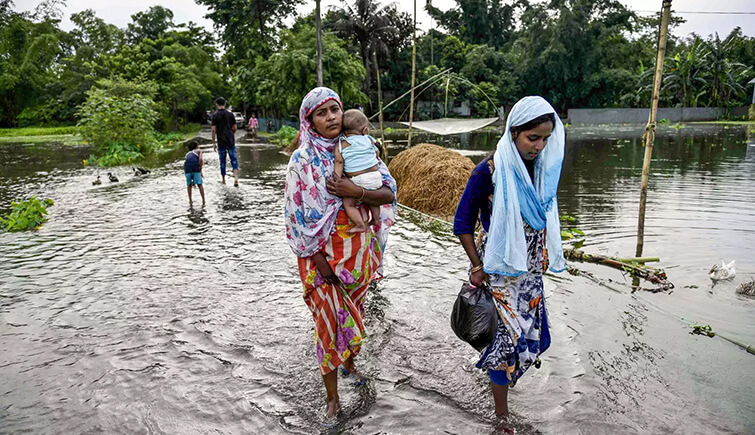 18 Jul, 2019
More Than 80 People and 200 Animals Died in the Massive Assam Flood 2019
Due to incessant rains, the situation of Assam Flood continues to worsen. According to the recent news on Assam Flood condition, the death toll has reached 86. Nearly 21.68 lakh of 1,716 villages in 56 revenue circles of Assam is affected by massive calamity. Along with Barpeta (the worst-hit district), the 17 other affected districts of Assam includes Goalpara, Bongaigaon, Nalbari, Dhemaji, Sonitpur, Darrang, Baksa, Golaghat, Jorhat, Cachar. Chirang, Kokrajhar, Dhubri, Kamrup, Kamrup (M), Morigaon and Nagaon. The pictures of Assam Flood shows that not only humans but animals too are affected mainly in Kaziranga National Park situated in the Golaghat and Nagaon districts and Pobitora Wildlife Sanctuary in Morigaon district.
Rivers in Assam Flowing At a Danger Level
Brahmaputra at Nimatighat in Jorhat and Dhubri
Disang at Nangamuraghat in Sivasagar
Jia Bharali at N.T. Road Crossing in Sonitpur
Puthimari at N H Road crossing in Kamrup
Beki at Road Bridge in Barpeta
Kushiara at Karimganj in Karimganj
Current Situation of Kaziranga and Pobitora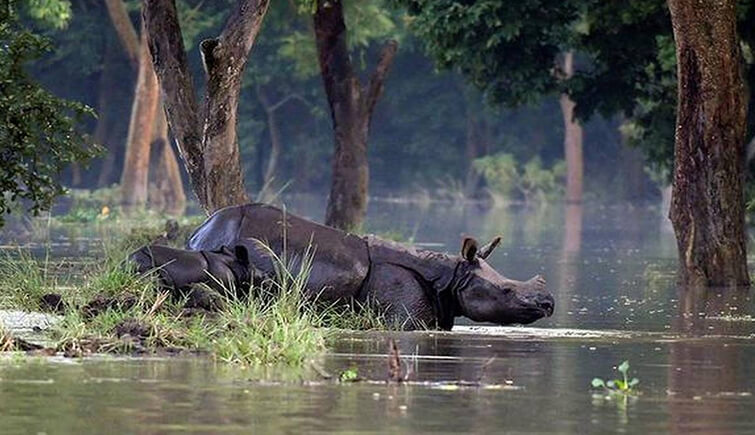 Both Kaziranga National Park (home to the endangered one-horned rhinos) and Pobitora Wildlife Sanctuary have been battling the havoc unleashed by Assam Flood 2019.
Approx 95% of Kaziranga National Park and 70% area at Pobitora Wildlife Sanctuary in Morigaon district was inundated.
As per the latest update on Assam Flood by LiveMint News, a total of 209 animals died in Kaziranga and the casualty has been the highest among Hog deer and small deer. A total of 111 Hog deer; 18 Wild Boars, 17 Rhinos; 12 Sambars;7 Swamp Deers; 3 porcupines; 2 two water buffaloes; and 1 elephant has drowned in the flood water.
The flood water of Kaziranga and Pobitora has started receding with the efforts of the forest department. The aim is to provide relief to the animals residing there.
The authorities in charge have been carrying fodder and grass for the rhinos.
In addition to this, the flood has also hit the agricultural land in Assam with around 1,50,213,60 hectares of land being flooded. The road connectivity to some far-off villages has also been adversely affected.
Steps Taken For Assam Flood Relief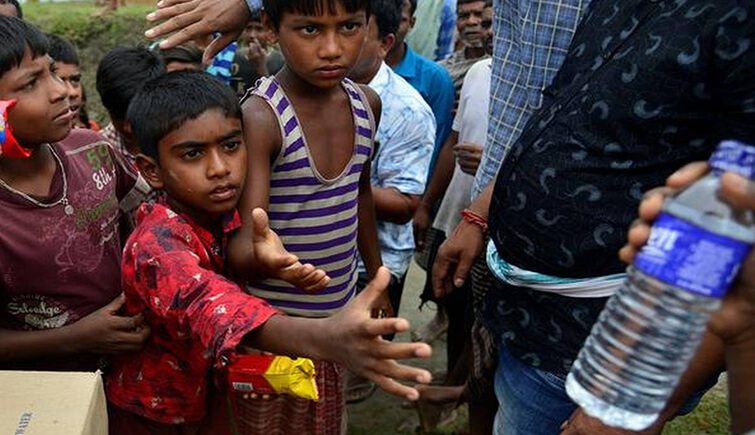 As heavy rains continue to wreak havoc in the northeastern state of India, the rescue operation, relief and rehabilitation have been undertaken by the state government round the clock to provide all the assistance in dealing with the flood situation in Assam.
The forest officials with the help of local people have been trying to rescue as many animals as they can.
Around 436 relief camps and 28 relief distribution centres have been set up and are operational in Nagaon, Baksa, Nalbari, Bongaigaon, Barpeta, Morigaon, Chirang, Kokrajhar, Dhubri, Kamrup, Golaghat, and Jorhat districts.
How to Make a Contribution For Assam Flood Victims?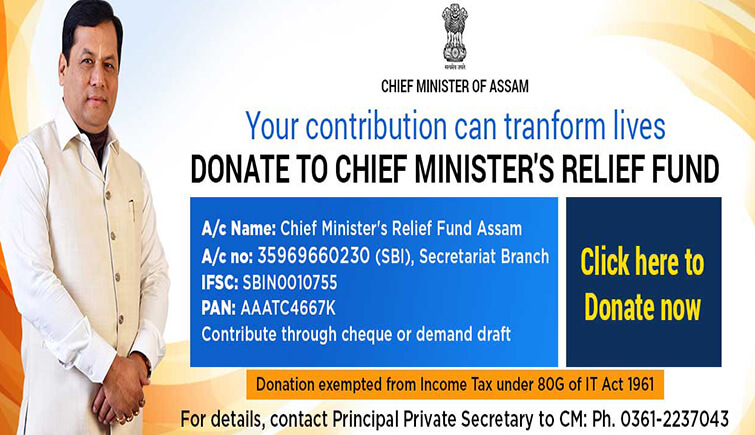 The state needs our help along with prayers and empathy. We need to unite and come forth to join this noble cause and contribute all that we can. For those, who want to make monetary contributions for Assam flood victims, here are the details of the Assam Chief Minister's Relief Fund.
Account-Holder's Name: Chief Minister's Relief Fund Assam
Bank: State Bank of India (SBI)
Account Number: 35969660230 (SBI), Secretariat Branch
IFSC: SBIN0010755
PAN: AAATC4667K
Contribute through cheque or demand draft
Easy Contribution Through Paytm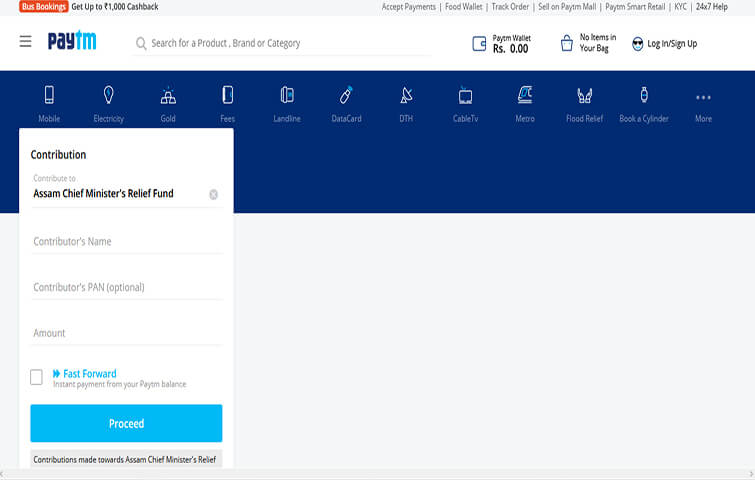 Also, you can use the mobile-payment platform 'Paytm' to make an online contribution to Assam Flood Relief. To make a donation using Paytm,
click here
.
Contribution to the Assam Flood Relief By Using Google Pay
Yet another easy way to contribute to the Assam Flood Relief. All you need to do is:
Open Google Pay.
Swipe Up from the bottom of the screen.
Tap on Assam Chief Minister's Distress Relief Fund.
Tap Start payment, and the amount would be directly transferred to CM's Relief Fund account.
Donation By Using the Food Delivery App Zomato
You can contribute food for the victims of Assam by using the Zomato's mobile application. Contributing Rs 50 would get a meal for 1 person, Rs 500 for 10 and Rs 5000 for 100. One can even volunteer to serve food with Feeding India Volunteers in the flood affected state of India.
Our endeavour was to assist you on how to donate for the Assam flood victims. Please come forward, and help Assam rebuild and become beautiful once again.