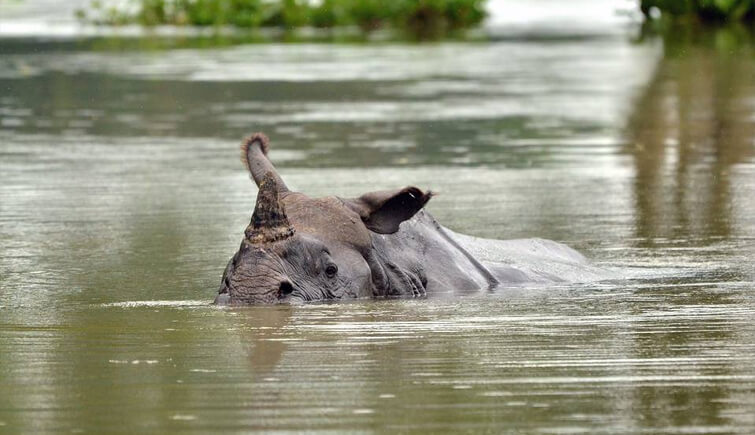 02 Aug, 2017
Death Toll at Kaziranga National Park Touches 92, Due to Continuous Floods in Assam
Vigorous flooding in the north-eastern state of Assam has affected not only human lives but also led to fatalities in the Kaziranga National Park, of total 92 wild animals, including 7 rhinos; that comes under the list of wildlife species at risk as per schedule I of India's wildlife protection act, and are granted the highest level of protection. Most of the animals died were 83 hog deers, and also 2 sambar deers. Environment Minister, Harsh Vardhan revealed the figures in his written reply to Rajya Sabha on Monday.
The situation got worst by continuous flooding, that submerged all the 111 highlands inside the national park, which used to be the safe grounds for the animals to rescue them from the floodwaters. And almost all the six ranges of the park have been deluged. It has been accounted that the majority of the animals were drowned, while some were struck by the vehicles when crossing the highway to migrate to the highlands.
Based on the annual plan of operations submitted by tiger reserves, the government provides funds to the park, through the National Tiger Conservation Authority, under the centrally sponsored 'Project Tiger' scheme. Those funds are used for various activities, like the measures that needed to be taken to address the flood situations such as creation of highlands, preventive structures against erosion and desiltation, acquiring boats for the rescue of animals, building of road networks, etc. The park has suffered the damages of over Rs. 7 crore, that would now needs to be make up for, with these funds.
Though, this time not a single one-horned rhino was poached during the flood season so far. As a security measure, to guard the animals against the poachers, two drones were flown, that can fly at heights of 2,000 feet and capture visuals in a radius of five km. Even the animal casualty is also less this year as compared to last year when about 500 animals died in the floods, which came as a nice silver lining.
Kaziranga New Desk...