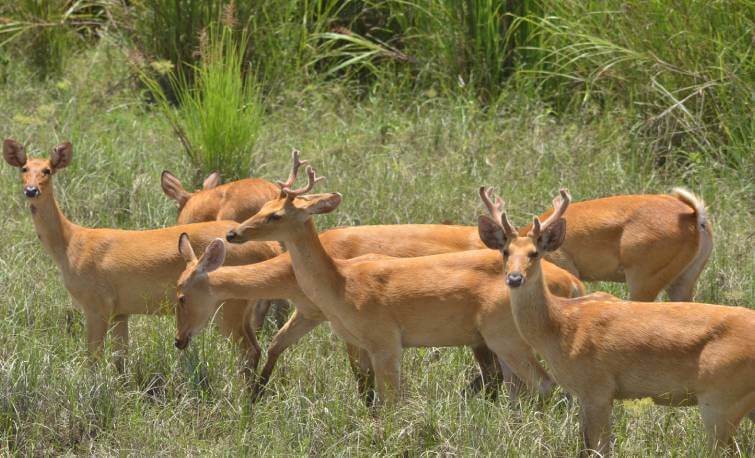 09 Aug, 2021
Never Seen Before- Royal Bengal Tiger's Wild Gaze at Parcel of Deers in Kaziranga | Watch Video
Tigers always amaze us with their wilderness. This time a rare view of an adult Royal Bengal Tiger sauntering along with a parcel of deer in the enchanting forest of Kohora in Kaziranga National Park. This video, captured by a tourist named Bishwajit Chetry is going viral over social media and delighting the soul of wildlife lovers.  Everything seemed comfortable in a group, in the presence of each other but a watchful and clever deer barked from a distance. It's a very rare scene to behold in the National Park which has a total population of 121 Royal Bengal Tigers.
Wildlife Tourism in India got a great boost with the increase in the population of tigers in Assam - 200 in 2021 from 158 in 2018 and the three tiger reserves Kaziranga, Manas, Orang have received Global Conservation Assured Tiger standards (CA/TS) accreditation in July.
Eastern Swamp deer is a very unique and endangered species. With a total population of 2000, it is thriving in Kaziranga National Park. Some of its species have been translocated to Manas National Park. It is the most self-effacing animal in Kaziranga out of 5 big animals - Rhino, Bengal Tiger, Asiatic Water buffalo and Elephant.
Kaziranga National Park News Inputs.>