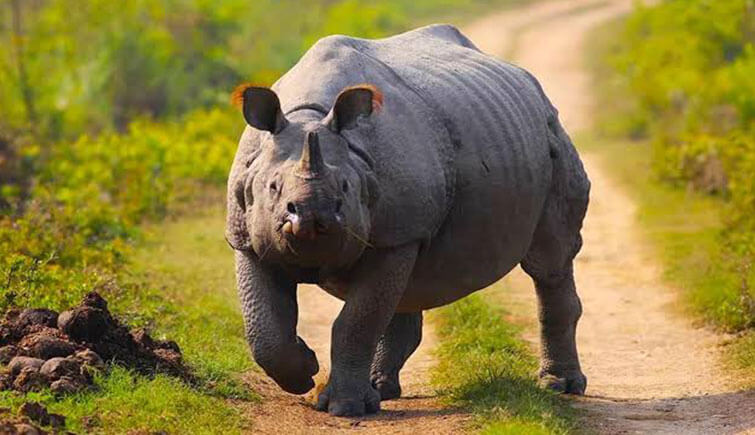 18 Mar, 2020
Rhino Kills One, Injures Another in Kaziranga National Park
Rhinos rely on their instincts, and will attack humans if they sense a danger from them. One such incident occurred in Kaziranga National Park in Assam when a rhino killed a forest staff while injuring a gardener in a sudden attack.
Details of the incident
Bikudar Bora, a game watcher (GW) and Anil Kalita, a gardener, came under attack by the rhino when they were patrolling the southern side of Ajhar Katoni under Muna Tongi camp of the Kohora range in Kaziranga National Park. Bikudar Bora died from the attack while Anil was shifted to Kohora Model Hospital for further treatment. He, however, is said to be out of danger now.
P. Sivakumar, the director of Kaziranga National Park, said that Bikudar was a hard working employee who carried out his duties with the utmost dedication. The rhino attack, he said, was sudden, and did not give them sufficient time to escape.
Condolence poured in from all sides
Condolences poured in from all sides, while organisations like Aaranyak and Aashray, which work for environmental conservation, expressed shock and anguish while paying their respects to the deceased, and offering condolences to Bikudar's family. The CEO of Aaranyak, Bibhab Kumar Talukdarm, said that his death was an enormous loss, while Biren Saikia, the president of Aashray, said that his sacrifice would leave a deep impact in the minds of nature lovers.
Additionally, the staff and officers of Kaziranga National Park, deeply mourned the tragic loss of what they described as a "brave rhino lover" of the park, and shared a post on Facebook to express their emotions.
It read, "We express our deep condolence for the demise of Sri Bikudar Bora, a GW who died due to rhino attack at the southern side of Ajhar Katoni under Muna Tongi in Kaziranga range, Kohora. His supreme sacrifice will be remembered forever. May god comfort his bereaved family. May his soul rest in peace."
Some figures regarding wildlife attacks in Kaziranga National Park
Rituporan Bora, the assistant conservator of Kaziranga National Park, shared some figures which showed how rhino attacks should be a matter of concern to its staff and officers. Since 1992, 22 people had lost their lives in animal attacks, while 105 were injured since 1975, he said. He went on to say, "Among them, 11 persons died and 65 were injured in rhino attacks only."
Kaziranga News Inputs.