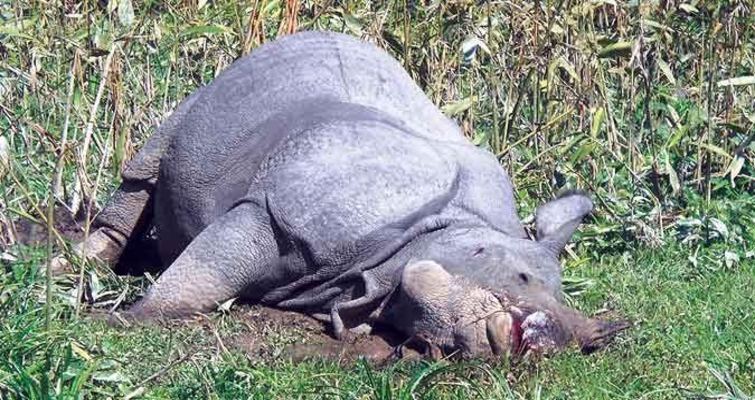 26 Jun, 2017
Poaching Continues in Assam, One Horned Rhino Killed in Orang National Park, Forest Minister Seeks Report
As per the latest report by the forest department officials, a carcass of the rhino found yesterday at Rajiv Gandhi Orang National Park in Darrang district. The poachers killed the one horned rhino and took away its horn, leaving the body near the Gaspara forest camp, about 6 km from the main office, inside the National Park.
Suspicion has been made on the involvement of the Forest Department Officials in rhino poaching, as there was no immediate response to the sound of gun firing by the forest guards. Though Assam Forest Minister Pramila Rani Brahma refused to comment anything over it, but ensured that necessary actions are being taken to search for the clues to catch the poacher. Pramila Rani Brahma sought a report from the officials on their delayed response on such serious issue. She even visited the National Park, to get the detailed idea about the incident.
Simultaneously, there are news that a rhino poacher has been arrested last night from Boralimara under Sootea police station in Sonitpur district by forest officials of Kaziranga National Park's Northern Range; told by the Range Officer Pranjal Baruah.
Kaziranga National Park and Orang National Park constitutes almost 95% of the total wild One horned rhino in the world. And these are the regions facing the major environmental issue of rhino poaching, that's resulting in the decline in the population of Indian rhinos. In Spite of the conservation measures of ending legal hunting, taken in the beginning of the 20th century, the poaching continued. The Statistics shows that 692 rhinos were poached in India from 1980 to 1993. The most surprising figure is of India's Laokhowa Wildlife Sanctuary where 41 rhinos were killed in 1983, leaving the species in their extinct stage there.