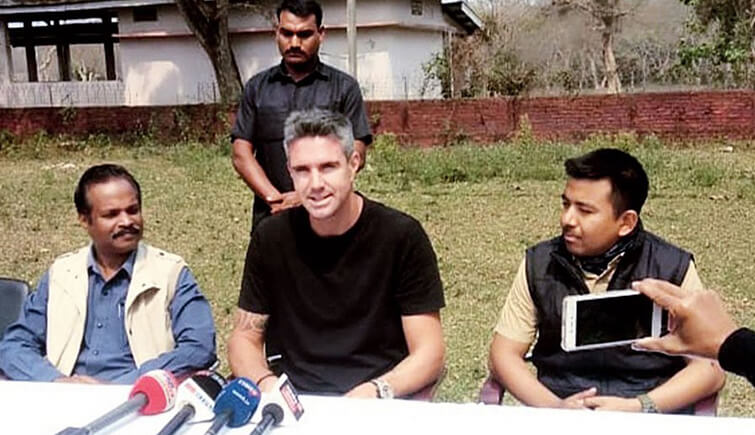 12 Mar, 2020
Kevin Peiterson Lauds Assam for its Exemplary Conservation of Rhinos
Kaziranga National Park in Assam, a UNESCO World Heritage Site, has won widespread acclaim for the conservation of one horned rhinoceros. Now, Kevin Pietersen- the former captain of England Cricket Team, has recently praised Assam saying that it is the leader in rhino conservation. He is at Kaziranga working on a documentary on rhino conservation.
Kevin Pietersen compares Assam and Africa
Kevin Pietersen arrived in Kaziranga National Park in Assam on 4th March to work on a documentary on rhino conservation. To emphasize the significant role being played by Assam towards the protection of the rhino, he compared it with Africa, saying that there were major problems with wildlife protection there, while everybody was enthusiastic and determined to save this enormous beast from extinction. He even gave a statistic to prove his point, saying that in Africa, a rhino was killed every eight hours.
Working on a documentary on rhino conservation
Since 4th March, Kevin Pietersen has been shooting a wildlife documentary in Kaziranga National Park, and is confident that it will be liked by everybody in India, since it portrays the natural beauty of Assam.
He says, "The conservation efforts being carried out in Kaziranga are so successful that the effort can be an example for the rest of the world. With a smile, all people here are dedicated to save the rhino, for which it has become the iconic symbol of Assam. Everybody in Kaziranga is ready to help and cooperate for conservation of wildlife. Everybody in Kaziranga has understood the value of the rhino. I will come again to Kaziranga to witness its wildlife and interact with the people of the area." He even posted a tweet: "India is going to be so proud of the beauty we show off in their state of Assam. This is one stunning learning experience."
Kevin Pietersen's documentary expected to be released in July
The documentary by Kevin Pietersen, which focuses on rhino conservation in Kaziranga and displays the beauty of Assam, is expected to be released in July. His enthusiasm is clearly visible in his words when he says, "Don't worry, you won't miss it! We'll be doing a big promotion. The story deserves it."
The documentary, which is a tribute to rhino conservation in Kaziranga National Park in Assam, is certainly fitting. According to a census carried out in 2018, Kaziranga is home to 2,413 rhinoceros. In the official UNESCO website, it is described as being one of the last areas in eastern India undisturbed by the presence of humans. It also recognises its spectacular achievement in saving the Indian rhinoceros from the brink of extinction in the 20th century.
Kaziranga News Inputs...
Thumbnail Picture Credit: Sanjoy Hazarika