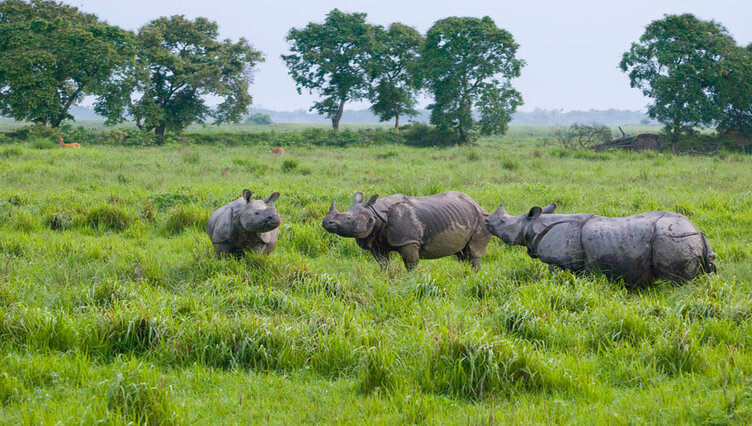 19 Dec, 2019
Kaziranga Utsav To Be Held Between January 5 and 7, 2020
Home to two-thirds of the world's great one-horned rhinoceroses, Kaziranga National Park in Assam offers impeccable wildlife experience to both international as well as domestic tourists. To this, tourists can now get prepared for attending 'Kaziranga Utsav.' Yes, a three-day tourism festival will be held in this, one of the most famous national parks of India from 5th January to 7th January 2020.
The district administration of Golaghat and the Forest Department of Kaziranga in association with the Assam Tourism Department came up with a decision to organise Kaziranga Utsav with an objective to showcase the great conservation story of Kaziranga National Park. Not just this, but the tourism festival will even highlight the different points of tourist interest in and around Kaziranga National Park.
Kaziranga Utsav Dates: 5 to 7 January 2020
When was Kaziranga Utsav Launched?
The official logo of 'Kaziranga Utsav' was launched on 23rd November 2019 by Atul Bora, the Assam Agricultural Minister in the presence of P Shivkumar, director of Kaziranga National Park and Tiger Reserve; Bibek Shyam, the sub-divisional officer (civil) of Bokakhat; and other dignitaries at a resort in Kohora, Assam.
After launching the logo Atul Bora shared his opinion on organising the tourism festival. He believes the three-day festival would be a moment of pride for all the people of Assam, more specifically the people of Kaziranga, as it would attract more tourists to the national park.
What can tourists see at Kaziranga Utsav?
Upon attending the Kaziranga Utsav, tourists will get an opportunity to be a part of a technical session in which many vital issues will be discussed like the man-elephant conflict to get rid of the current crisis causing casualties to both elephants as well as people. Discussions on the conservation of flora and fauna of the national park, issues related to sustainable tourism as well as management of eco-tourism would be put forward in which the views of the local population of Kaziranga will also be acknowledged.
Adding to this, Shaym said, various other programs like art competitions, cultural functions, food fests and more have been lined up for the Kaziranga Utsav.
Conclusion
A great initiative has been taken by the Assam Tourism Department and it becomes our duty to actively participate in the tourism festival to speak up on wildlife conservation and other issues for the betterment of all.
About Kaziranga National Park
Being one of the prides of India, Kaziranga National Park is situated on the banks of River Brahmaputra in between two districts of Assam (Golaghat and Nagaon). Covering an approximate area of 430 square kilometres, the national park was declared as a World Heritage Site by UNESCO in the year 1985 for its unique natural environment. Even though the park has been famous for spotting the one-horned rhinos but as the national park is also home to various species of inhabitant as well as migrating birds, it has also been identified as an important bird area by Birdlife International Society.