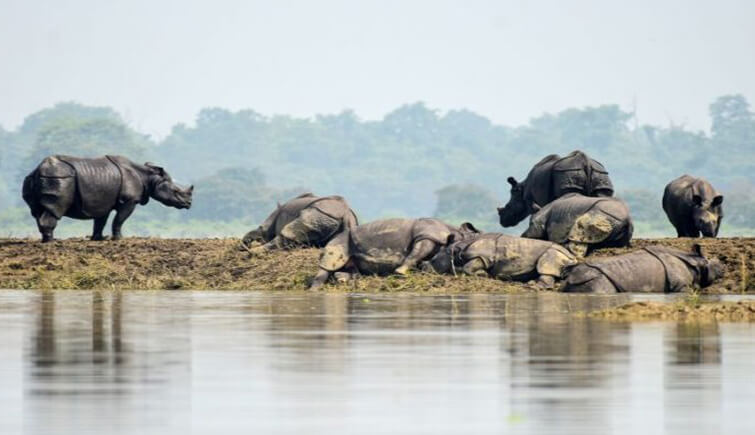 23 Jul, 2019
Floods Wreak Havoc in Kaziranga, Heavy Loss of Wildlife
The arrival of monsoon, and with it, the incessant downpour, acts like a double edged sword for both humans and wildlife at Kaziranga National Park. Rainfall, and good amounts of it, is beneficial to the park as it leads to the formation of new grass and shrubs, the two main food items for the herbivores. The heavy downpour, which continues for weeks, causes flooding in many areas of the park, which in turn leads to the loss of wildlife. It has done so this year, and with catastrophic consequences to the wildlife.
Floods in Kaziranga prove catastrophic for wildlife
This year too, Kaziranga National Park, a UNESCO World Heritage Site and one of the most visited tourist attractions in Assam, is heavily flooded. It is believed that almost 95% of its 434 sq. km area remains submerged under water. This has taken an enormous toll on its precious wildlife, particularly the one horned rhinoceros. According to information released by park authorities, almost 200 animals, including 17 one horned rhinoceros, have died in these floods.
The hog deer perhaps bore the brunt of floods the most, as almost 124 of them lost their lives either by drowning or being killed while crossing the NH 37. Speaking on the matter, an official of Kaziranga National Park said, "So far carcasses of 16 rhinos, which drowned in flood water has been recovered with their horns intact while another rhino died after falling off a hill which it tried to climb to avoid flooding. Two baby rhinos aged below six months also became orphans as their parents drowned in flood waters. They are being taken care of at the wildlife rescue center at Kaziranga and will be released in the wild at the appropriate time."
The figures for other animals also reveal the extent to which floods have wreaked havoc at Kaziranga National Park. Official figures state that 17 wild boars, 13 sambhars, a porcupine and an elephant lost their lives to the flood. Drowning was the cause of death in all these cases.
Disturbing images of animals escaping the flood in Kaziranga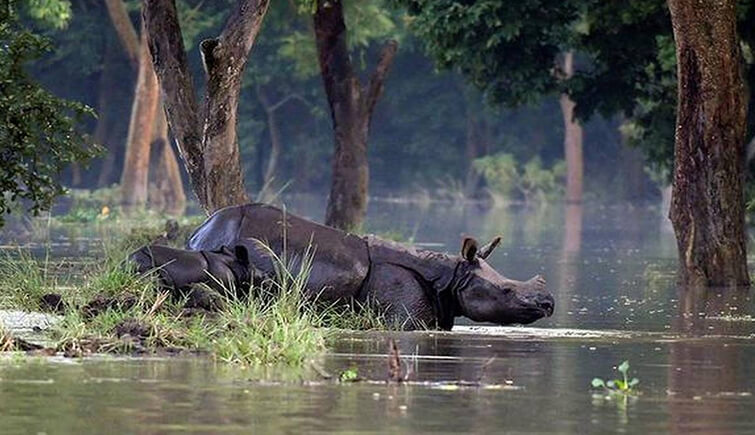 Animals have been left to fend for themselves in many areas inside the park where rescue operations have proven to be quite difficult. Images of animals seeking higher ground have come to light. These are both disturbing and heartbreaking.
The most heartbreaking of these is a picture of exhausted rhinos lying on a stretch of land at Kaziranga National Park. The rhinos must have waded through the deep waters before finally reaching dry land.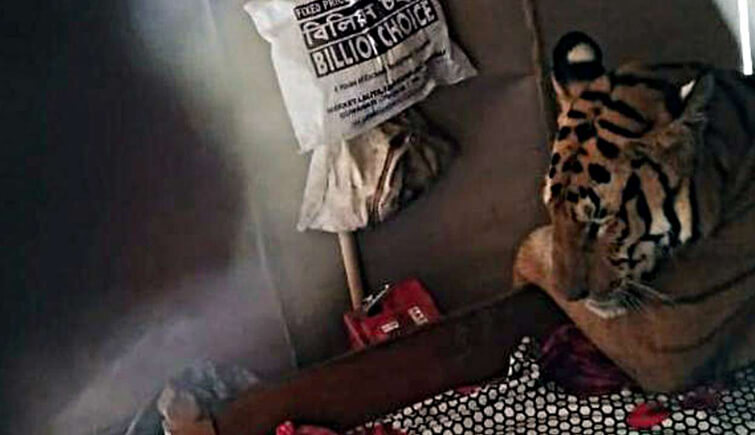 Another famous picture which was released a few days back showed a tiger relaxing in a house. The tiger had escaped the flooded areas of Kaziranga National Park and was first spotted by a forest guard near the national highway. Later on, he made a quick dash for the house, which was located in close proximity to the park.
These pictures show us the immense suffering that the animals are going through, helpless and vulnerable as they are to the forces of nature.
Rescue operations & other relief efforts at Kaziranga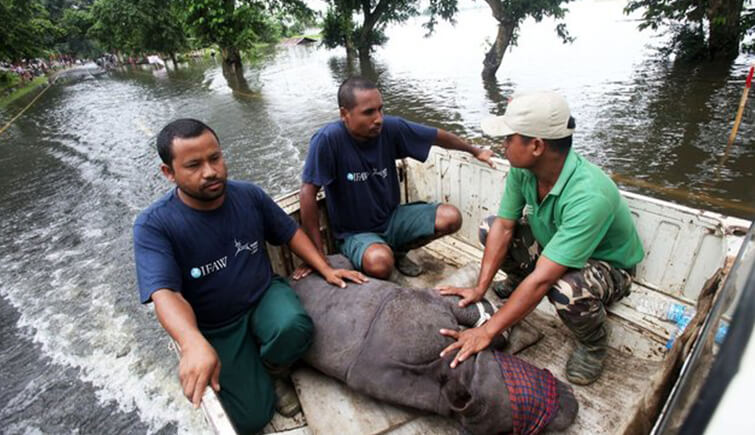 Various kinds of rescue operations and other relief efforts are underway at the Kaziranga National Park. Efforts are being taken to ensure that the maximum number of animals are taken to safety.
According to Kaziranga National Park officials, a total of 64 animals including one elephant was rescued by teams of forest officials and CWRC (Center for Wildlife Rehabilitation and Conservation) since July 13. 52 of them have already been released after proper care and assessment of the situation. Speaking on the matter, a KNP official said, "There are still large numbers of rhinos and elephants on the highlands of Karbi Anglong, which lies just outside Kaziranga. Our forest personnel along with police are closely monitoring the animals to preempt poaching attempts".
Apart from these attempts undertaken by the forest officials, the 33 highlands scattered across the park are providing a safe shelter to the animals from the flood waters. They were constructed in the last years, after Kaziranga faced one of its worst floods in 2017. Some of the highlands are also located in Karbi Anglong, across the NH 37 and in the southern part of Kaziranga.
Dangers of poaching rises after anti poaching camps flooded
The flooding in Kaziranga National Park has also resulted in the flooding of 169 anti poaching camps in the park, out of a total of 199. To combat the dangers of poaching, the staff and security personnel are resorting to mechanised and country boats to deal with any emergencies. Apart from forest guards, a State Disaster Relief Force (SDRF) team is working in collaboration with Assam Police personnel in the areas known to be vulnerable.
Do your bit - Donate to the Chief Minister's Relief Fund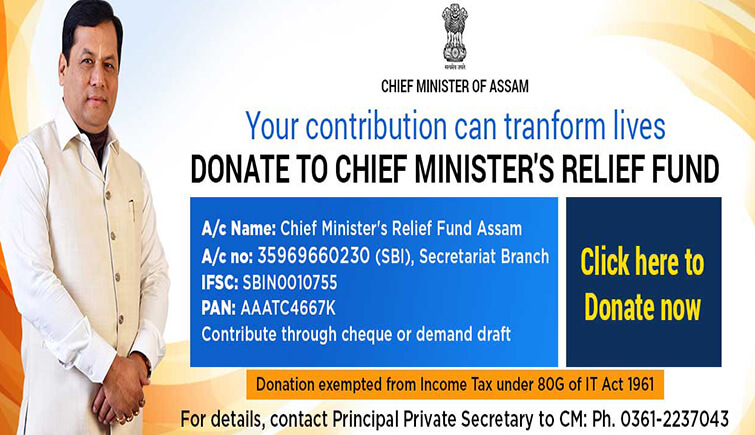 You can do your bit towards helping those, both humans and wildlife, by contributing to the Assam Chief Minister's Relief Fund. All the necessary information has been mentioned below. Act fast, Kaziranga needs you & appreciates any help it can get.
Account-Holder's Name: Chief Minister's Relief Fund Assam
Bank: State Bank of India (SBI)
Account Number: 35969660230 (SBI), Secretariat Branch
IFSC: SBIN0010755
PAN: AAATC4667K
Contribute through cheque or demand draft.