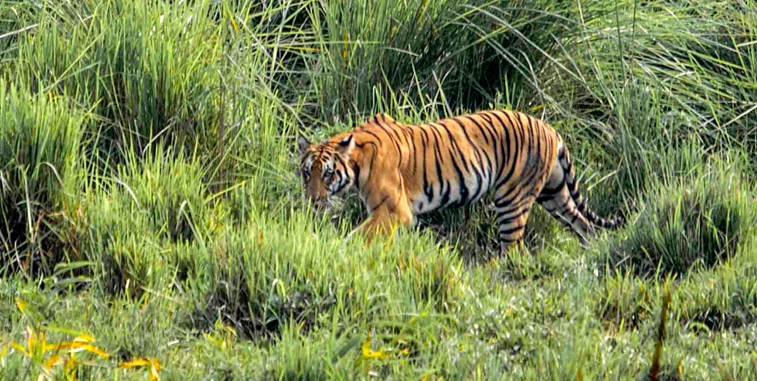 06 Jul, 2017
Kaziranga Facing Challenges of Erosion, Siltation and Sparse Grasslands
Along with the still existing problem of rhino poaching, the limited availability of pasture land to nurture the ever expanding population of one-horned Indian rhinoceros, is now looming over Kaziranga National park. Since last 40 years till date, the loss of 80 sq km land has been recorded due to erosion. Whereas, the siltation in the water bodies has given rise to the problem of less water retention capacity. Satyendra Singh, The Chief Conservator of Forests and Director, Kaziranga National Park, addressed this issue at the two-day national level conference on 'Emerging Issues of Biodiversity and its Conservation' that has recently been organised by the Kaziranga Study Centre, at JDSG college of Bokakhat in association with Kaziranga National Park authority and collaborated by Aaranyak, The Corbett Foundation and Wildlife Trust of India. In total, 25 scientific papers were presented during the seminar.
In spite of some portion of the grasslands; that provide as food and shelter to the wild herbivores of Kaziranga National Park, being covered with wooden forests, has become a substantial challenge for the park managers to maintain the ecological balance in Kaziranga. Adding to that, Prof Parimal Bhattacharya, trustee of Wildlife Trust of India (WTI) showed his concern for conserving our rich biodiversity, which is extremely essential for the sustainability of varied species and humans altogether. The mere cutting down of the dense forest may lead to extinction of small living organisms like insects, microbes and even amphibians, that are equally important in maintaining the balance in our ecosystem. Just as it happened after deforestation in some parts of the country and Assam. He also pointed out that much of the Government's and NGO's attention has been concentrated on the protection of the big wild mammals but the smaller organisms sheltering in the wild forests are not thought about much. Further illustration, on the importance of 3,500 wetlands of Assam had been done by him, mentioning the two biodiversity hotspots in Assam; One that lies on the northern side of the Brahmaputra and other on the southern side.
Prof Parimal Bhattacharya threw light upon the life of rural people whose livelihood depends on nature, lives an exceptionally healthy life as compared to the urban people. It has been observed that 60% of the people rely on nature for nourishment and are seen to be maintaining high percentage of haemoglobin against the urban people who follow a rather unhealthy lifestyle.
Popular Posts
---
Follow Us
---
Recent Posts