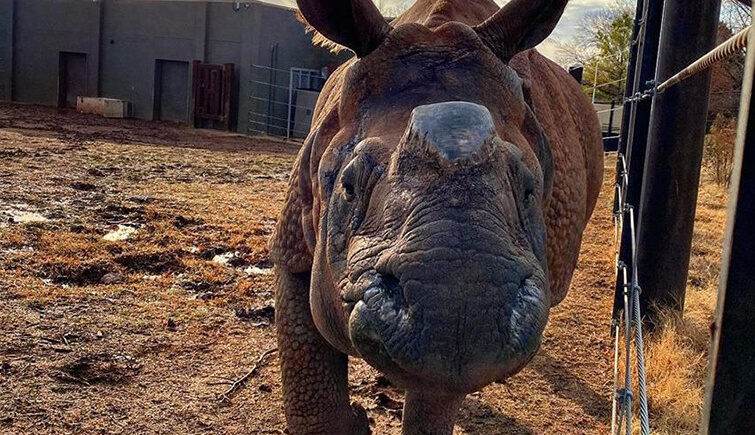 18 Feb, 2020
Oklahoma City Zoo Announced Indian Rhino's Pregnancy on 14 Feb 2020
The Oklahoma City Zoo in the United States proudly announced on 14 February 2020 that Niki, a 13-year old Indian female rhinoceros (also known as greater one-horned rhino), is going to give birth to her second baby rhino soon. Niki, the Zoo's adult one horned rhino, is expecting a calf with Arun, a 29-year old male Indian rhino at the Zoo. According to the reports, Niki is expected to give birth in either late October or early November 2020 after a 16-month gestation period. This will be the first baby of this breeding pair. Isn't that heartwarming? Of course, it is!
In Case You Didn't Know
The Indian Rhino species became a part of the Oklahoma City Zoo animal popular in the year 1981. The new baby rhino's birth would be the sixth one since then. Earlier in the year 2014, Niki gave birth to Ruper, a male rhino who now lives at Mesker Park Zoo in Evansville, Indiana. Rhino's dad Arun along with Shanti, a 32-year old female Indian rhino, was brought from the Fort Worth Zoo to OKC Zoo in February 2019, as part of a breeding recommendation by the Indian rhino species survival plan (SSP).
The Current Appearance of Niki. Ah! She Looks Amazing
Niki appears healthy and currently weighs around 4,000 pounds. She is receiving excellent care and attention from the caretakers who are working closely with the veterinary team of OKC Zoo to observe both mom and calf through ultrasound and other exams. Niki is comfortable and voluntarily participating in the exams and care taken during pregnancy.
OKC Zoo's Contribution in Saving the Indian Rhinos
Native to the Indian subcontinent, the greater one-horned rhinos are currently listed as 'vulnerable' on the International Union for the Conservation of Nature (IUCN) Red List. The OKC Zoo is helping save the Indian rhinos by supporting the efforts of International Rhino Foundation to protect rhino and their habitat in India, with funds from Zoo's Round Up for Conservation. The Round Up for Conservation program is an easy way to support the Zoo and conservation initiative and encourages visitors to donate their change from any Zoo purchase to help protect wildlife and wild places around the globe.