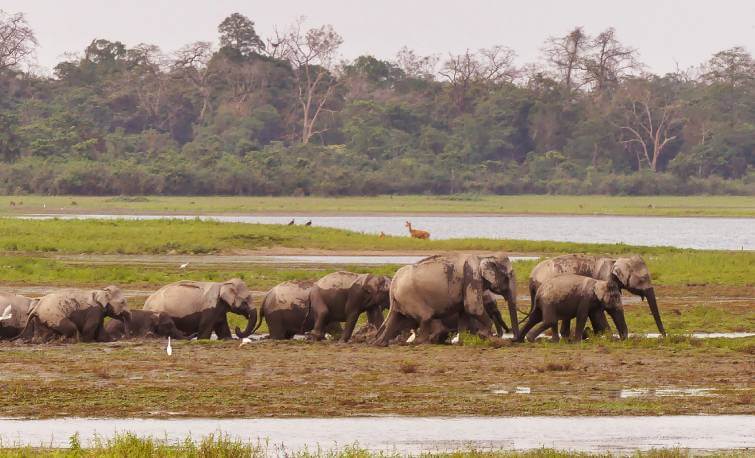 04 Apr, 2023
Gaj Utsav 2023 to Take Place in Kaziranga on April 7, 8; Safaris to Remain Closed in All Ranges
Kaziranga National Park, the UNESCO World Heritage Site in Assam, which is famous for being home to world's two-third populations of one-horned rhinos and a large breeding populations of elephants, swamp deer and wild water buffalo, is set to host Gaj Utasav 2023 on April 7 and 8.
Gaj Festival 2023 will be celebrated by the Union Ministry of Environment and Forest to commemorate the successful rendition of 30 years of Project Elephant, which was started in 1991-92 to boost the conservation efforts. Moreover, as per reports, Assam is home to the second largest population of wild elephants and also a large number of elephants reside here under human care. That's why, no other place but Assam seems to be a perfect place to host the festival.
Ashwini Kumar Choubey, Union Minister for Environment, Forest and Climate Change said in a briefing, "The State of Assam holds the second largest wild elephant population in India and also has a large number of elephants that are under human care. Thus, it is fitting to celebrate Gaj Utsav 2023 at Kaziranga, Assam. India's remarkable efforts towards conservation of biological resources under the umbrella of elephants would also be showcased during the festival."
The two-day event of Gaj Festival at Kaziranga National Park will be inaugurated by the Honourable President of India, Draupadi Murmu on April 7 and she will be present on both days. Reportedly, as the festival is a celebration of Project Elephant, which focuses on Elephant Conservation Efforts, Gaj Utsav 2023 in Kaziranga aims to promote what more can be done in conserving the animals, how to prevent elephant-human conflicts, and how to protect their corridors and habitats. As per Ashwini Kumar Choubey, Union Minister for Environment, Forest and Climate Change, the festival is also aimed to give more impetus to the nature-culture relationship in the country.
Mr. Choubey also added, "Since people's participation has given more impetus to conservation efforts, the Utsav is intended to bring together the Minister of Environment, Forests and Climate Change (EFF & CC), Chief Minister of Assam, Minister of State, EF & CC, Forest Ministers of all Elephant Range States, Principal Chief Conservator of Forests & Head of Forest Force (PCCF & HoFF), Chief Wildlife Wardens (CWLW), Infrastructure Departments, Local Communities, Civil Societies, NGO, school children, mahouts, etc. to celebrate and to display the efforts taken by the Government and other stakeholders for conservation of elephants in the country."
However, do note that, due to Gaj Utsav, all kinds of safaris, elephant as well as jeep will remain suspended on both the Kaziranga Gaj Festival dates 2023, i.e., April 7 and 8 in all the ranges of the park including Kohora, Burapahar, Bagori and Agoratoli.
Kaziranga News Inputs.