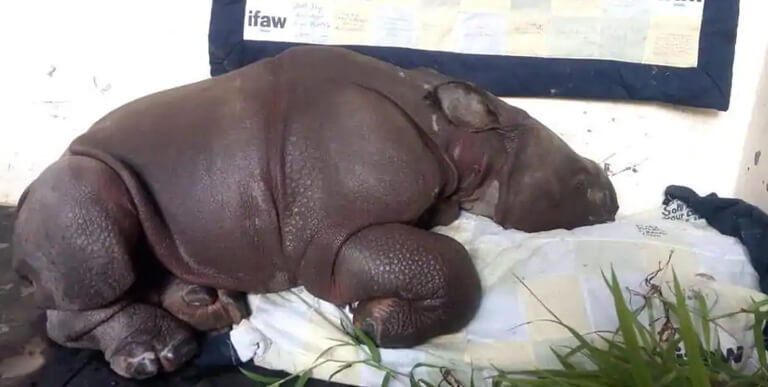 22 Apr, 2020
1 Month Old Rhino Separated from Mother in Kaziranga, Search to Find Her Continues
If you are an animal lover, then here is a piece of news that will melt your heart. A one month old rhino calf got separated from its mother in Deopani Area in close proximity to NH 37, outside the boundary of Bagori Range of Kaziranga National Park. Baby rhinos are very attached to their mothers, who in turn are extremely protective of them. The baby rhinos stay with their mothers for around 3 years before they start going out on their own.
Details of the incident
P Sivakumar, the director of Kaziranga National Park, said, "The calf got separated from the mother and was found roaming around Deopani area close to the national highway. When we got the information from the nearby villagers, we went and rescued it around 11:00 am on Sunday".
He went on to say, "We tried to locate the mother but weren't successful. Since there was a threat to the calf from tigers or other animals, we sent it to the Centre for Wildlife Rehabilitation and Conservation (CWRC)."
Regarding the search for the baby rhino, P. Sivakumar said, "We have engaged our people in the Deopani area to trace the mother as she should be in that particular location. There are around 50 rhinos in that area. Without knowing the exact mother, we can't release the calf into the herd as there is a possibility of an adult rhino attacking it."
What is CWRC & why was the baby rhino sent there?
The CWRC (Center for Wildlife Rehabilitation and Conservation), located in Borjuri Village close to Kaziranga National Park, is the only facility in India where wild animals which have been injured or orphaned are treated before being released again into the wild. Every year, the CWRC takes care of baby rhinos, elephants and other animals who are rescued because of the annual that submerge large parts of the Kaziranga National Park.
Experts believe that it is better for the baby rhino to stay at CWRC at present, since it could face danger from other wild animals in the park.
Bibhab Talukdarm founder of Guwahati based wildlife NGO Aaranyak, said, "Since the baby is very small, it must have been suckling. As there is a threat to it if it's left in the wild, it is better for it to stay at the CWRC till the mother is found. It's a challenging task, but personnel at the centre are experienced and well-equipped to handle such babies".
Talukday also added that although they were unsure of the reason behind the calf's separation from the mother, sometimes female rhinos leave their babies to protect it when an adult rhino male is attracted towards her in heat.
Conclusion
Let us hope & pray that the mother of the baby rhino is found and is reunited with her at the earliest.
Kaziranga News Inputs.