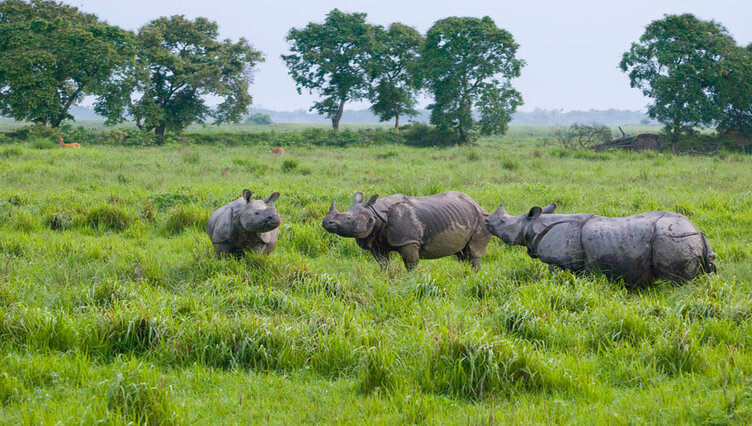 01 Sep, 2017
The Attempt of Poaching Failed at the Flood-Struck Kaziranga
The quietude of Kaziranga National Park, a UNESCO World Heritage Site, has been shattered once again by the blazing of the automatic rifles on Wednesday, when the firing took place between the poacher's gang and the forest staff.
In Spite of high security, the gang of five members entered the Burapahar range of the park where the rhinos took shelter after the flood struck Kaziranga. The forest staff spotted them near the temple and foiled their attempt to poaching by resorting to firing. But the poachers retaliated with around 22 rounds of bullets, and finally managed to escape from the park. Though, none of the poachers got caught, but the Rhinos are saved from the attempt. It is suspected that the gang was from the militant group, as they were equipped with automatic firearms, which are generally not used for poaching.
Ever since the devastating flood hit Assam, the situation at Kaziranga National Park - the home to the world famous one-horned Rhino, has been at unrest. When on August 10, the water of the Brahmaputra river completely drowned Kaziranga, all the animals were forced to take shelter outside the park in the highlands in Karbi Anglong district. From that time till now, the death toll at Kaziranga has touched 140 animals, including 7 rhinos, whereas leaving the rest exposed to the poachers. Though, for their security, necessary steps have been taken every now and then. The drones were flown to keep a watch on the movement of the animals, while the forest guards and police are on maximum alert, who even carried out night patrolling on boats before.
With the receding of the flood waters, the situation in the Kaziranga National Park has been getting better. And the animals, especially rhinos, have started moving back to their homeland. Thus are susceptible to poaching.
Kaziranga News Desk...